Roush Review: A Graceful, Funny 'Playing House'
"Cancer has picked the wrong duo to mess with," declares Maggie (Lennon Parham) to her ailing BFF, Emma (Jessica St. Clair), halfway through the long-awaited third season of the wacky buddy comedy Playing House, instantly thrusting the show into the kind of real-world situation Laverne & Shirley never had to face.
Emma's diagnosis in the fourth episode, reflecting St. Clair's own successful battle with breast cancer during the show's long hiatus, is handled with a graceful balance of raw emotion and wry irreverence that continues through the rest of the eight-episode season. (Though USA is airing the show in back-to-back weekly blocks on Fridays, the entire season will be available starting Saturday for On Demand binge-watching.)
Before reality rears its scary head, this week's initial episodes reacquaint us with the merrily messed-up lives of these proudly silly "sisters for life," reminding us how Emma gave up her career to help single mom Maggie raise her daughter. The reminder is helpful, since there hasn't been a new episode since 2015, but the gal-pals haven't missed a beat in the interim. And it's giddy business as usual as Maggie hosts her ex, Bruce (Brad Morris), and his new love interest, a truly tough Cookie (Looking's Lauren Weedman), to an at-home game night with Emma and her besotted beau, Mark (a typically terrific Keegan-Michael Key).
The second episode is even funnier, when Emma gets embroiled with hapless "Bird Bones" Tina (Lindsay Sloane) in a cosmetics-sales pyramid scheme that balloons much like Maggie's lips after applying a lip-plumping gloss. ("Why do you look like Lisa Rinna melted?") This episode also introduces a new character, an uptight "Dr. Freeze" resident (Ben Willbond) who ever-so-slowly succumbs to nurse Maggie's quirky charms. Which allows for a classic rom-com backdrop to Emma's health crisis, with guest stars Laurie Metcalf (in Getting On mode) arriving in Episode 5 as her supportive oncologist and Casual's Michaela Watkins as her reconstructive plastic surgeon, accentuating the positive with the promise of a more robust bosom.
At heart, and there's plenty of it this season, Playing House is a celebration of friendship through comic, and seriocomic, adversity. Well before its jubilant season climax, where Emma and Maggie do "Proud Mary" proud in a sync-for-your-life Tina Turner drag routine, this House feels more like home than ever.
Playing House, Season Premiere, Friday, June 23, 11/10c, USA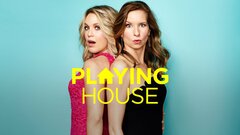 Powered by