Veep's Timothy Simons Makes for an Endearing Jerk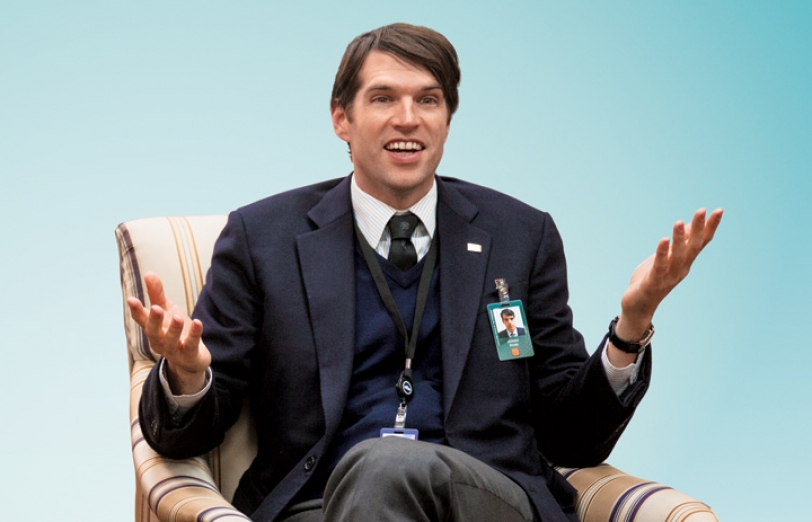 He Plays:
Jonah "Jonad" Ryan, White House liaison to the office of Vice President Andrew Doyle (Phil Reeves), mouthy bastard, gormless loser, and receiver of many a wicked put-down in each episode, including "You're the world's biggest single-­cell organism" and "You're not a man, you're like an early draft of a man."
Where You've Seen Him:
As a news director opposite Seth Rogen in The Interview (which also featured his Veep costar Randall Park), as the aptly named Agent Borderline in Paul Thomas Anderson's Inherent Vice, and as a garrulous football scout opposite Kevin Costner in Draft Day. Soon, the 6-foot-5 Simons will play Peter Dinklage's brother in the Melissa McCarthy big-screen comedy Michelle Darnell.
Why We Love Him:
Simons makes sure that Jonah never comes off as the average ass. He's more like a clueless puppy with a mean streak. "When you meet him, your first thought is, 'This is one of the more terrible people I've ever laid eyes on,'" Simons says. "But he has such a thin veneer, beneath which you can see his insecurities so clearly, that people can't help but sympathize. I'd say he's about 5 percent endearing, and 95 percent the rest."
Balls to the Wall:
One of Jonah's major story­lines this season concerns the habit of the vice president's chief of staff, ­Teddy (Patton Oswalt), to pat or grab Jonah's testicles to show appreciation, respect, or disfavor. "I love how Jonah can't believe that someone would be so inappropriate in the workplace, even though he's been a sexual harasser this whole time," Simons says. "He's so clueless." As were Simons and Oswalt when it came to filming those moments. "I'd never been in a sex scene," Simons says. "So I'd never had a conversation about the logistics of touching someone else's genitals in the workplace. We figured out a way to do it without [Oswalt] touching me, but without sacrificing realism."
Veep, Sunday, 10:30/9:30c, HBO