USA Orders Fourth Season of 'Chrisley Knows Best'
Fans of fussy Georgian patriarchs, rejoice! USA has ordered a fourth season of Chrisley Knows Best, its reality-comedy about the eponymous Chrisleys: Todd, wife Julie, and their kids. "The Chrisleys continue to be on a roll, as fans can't get enough of the family's amusing, unfiltered and relatable moments," said USA president Chris McCumber, announcing the pickup.
The series has built steadily in the ratings since its first season premiered in March 2014, leading to a talk show pilot deal for Todd and a possible spinoff following almost-grown-up kids Chase and Savannah to college.
Season 3 continues tonight at 9/8c, with a nosy Todd following Savannah to a date with a new beau she's been keeping secret from the family. TV Insider has an exclusive clip from the episode:
[jwplatform 0SRqaJ5f]
The Chrisley midseason finale airs on July 21, and the remaining six episodes of the 18-episode season will air sometime in the fall.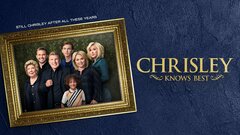 Powered by