'The Originals': 10 Things You Need to Know Before Friday's Comic-Con Panel
Werewolf-Vampire hybrid Klaus Mikaelson (Joseph Morgan) has never been Mr. Sensitive, but his zeal to keep baby daughter Hope safe from wicked witch Dahlia (guest star Claudia Black) left Dahlia dead, his brother Elijah's (Daniel Gillies) lover, Gia (guest star Nishi Munshi), in flames, teen witch Davina (Danielle Campbell) dangerously frustrated, and Hope's mama, Hayley (Phoebe Tonkin), stuck in wolf form. Executive producer Julie Plec tells us what's next for Klaus and Co. (And we'll know even more after Friday afternoon's Comic-Con panel, and visit TV Insider's Comic-Con page for more features.)
When we last saw Klaus, he was telling Hope a bedtime story. What's his plan going forward?
He wants to sit back, raise his kid, and enjoy life. His plans are foolish, frankly, because he's in denial about the extent of the damage he's caused and how deep the rift in his own family is.
Will anyone try to take Klaus to task in Season 3?
Absolutely. Elijah has not had his last words with Klaus. And there may not ever be a forgiveness there. Elijah is still with Klaus only because Hayley asked him to make sure that Hope is watched over and raised well.
Now that Hayley is trapped mostly in wolf form, will Phoebe Tonkin still be a regular on the show?
We don't want her stuck howling at the moon! Between the fact that she's indeed still human during the full moon and help from some pretty crafty witches, her chances of getting out of this predicament are pretty good. I just don't know how nice it's going to be for anybody once she is successful in returning full-time to human form. Especially for Klaus!
Will Hayley and her equally cursed werewolf husband, Jackson (guest star Nathan Parsons), be together when the show returns?
I love them as a couple. We rarely do sweet and simple—what I call Mr. Darcy epic romances—so it's nice to have their story.
That relationship certainly annoys Klaus, doesn't it?
Yes, and it's awesome. As is anything that gets under Klaus's skin—or provides a roadblock for poor Elijah, who in his noble way thinks he would never do anything to disrupt the wedding vow that Hayley's made, even though he's deeply in love with her. That's going to be a nice struggle for him next season.
What will long-lost Mikaelson sister Freya (Riley Voelkel) be doing, other than babysitting Hope?
[Laughs] She's willing to take over Rebekah's [Claire Holt] mantle of being the voice of reason in the family. That will provide great tension and hopefully also comedy.
Plus: Get more SDCC news on TV Insider's Comic-Con page.
Can we expect to see Rebekah—in either of her bodies—again?
Absolutely. With luck, we'll see them both.
Is Klaus feeling any remorse for all the chaos and death he's brought?
He never comes out and admits it. And that comes from being in such deep denial about his actions and the consequences. I think after a bottle of bourbon and some quiet dinners, he'll start realizing that loneliness is not fun.
Where does Klaus's human pal/crush Camille (Leah Pipes) fit in now that she's admitted she has feelings for him?
Cami definitely has deeply conflicted feelings. She can't quite shake him, and he clearly can't shake her. So we will see.…
The Mikaelsons prevented Davina from resurrecting her lover—and fellow witch—Kol (guest star Daniel Sharman), even though he's one of the Originals siblings! She's a powerful witch now, so can we expect her to be a major enemy of the family next season?
She's not doing them any favors. She now controls all the favor-granting New Orleans witches, so the Mikaelsons shouldn't expect any witchy assistance when we return. But the real villains will be some new vampires who have come to town. They are very, very old and have a long and deeply personal history with the Original siblings.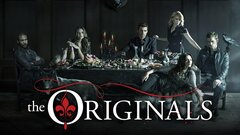 Powered by