The Originals' Joseph Morgan on Klaus's Bad Behavior
The Originals' Klaus Mikaelson, played with gusto by Joseph Morgan, is a hard man to love. By the Season 2 finale on Monday, May 11, the 1,000-year-old werewolf-vampire hybrid has officially alienated everyone who cares about him as he ruthlessly wreaks havoc on New Orleans' citizens. In his mind, this bloodshed is necessary to protect his baby daughter, Hope, from all comers, especially his evil aunt Dahlia (Claudia Black). Here, Morgan explains his alter ego's unconscionable actions.
Klaus destroyed his mother and killed his birth father, and recently, his hated stepfather, Mikael (Sebastian Roche), too. So can he finally move on after spending a millennium brooding about his unhappy childhood?
Klaus and Mikael were allies for a brief moment. I had really hoped that Klaus would build a healthy relationship from that, but he didn't. So I don't know that there's any closure, because now there are just feelings of regret. And we'll have to see what new issues develop from his relationship with his daughter. There's unconditional love from him, but she can't even talk yet!
Hope is the product of two hybrids: Klaus and Hayley (Phoebe Tonkin). How strong is she?
We are just learning about her potential for power. I hope that we'll see her grow up and be sort of a Carrie character. That would be really interesting.
What's really going on with Klaus and his improbable alliance with Dahlia? He must have some master plan. Or is he really just that wicked?
[Laughs] In the May 4 episode, he was wicked in the truest sense of the word. He did a lot of terrible, potentially unforgivable things. Once again he has decided to become [the person] people think he is. It's been really fun to play, because it's a return to form for Klaus: no remorse, utter ruthlessness. Like Dahlia, he's a monster. He enjoys the fear he causes in people.
So will fans be able to forgive Klaus at the end of the shocking finale?
Maybe. That depends on whose side you're on. [Laughs] And whom you care about.
The Originals, Season finale Monday, May 11, 8/7c, The CW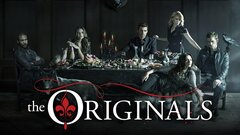 Powered by