What's Worth Watching: The Vampire Diaries loses Elena Gilbert
The Vampire Diaries, "I'm Thinking of You All the While", (Thursday, May 14, 8/7c, The CW)
You may love the much-put-upon Elena Gilbert (Nina Dobrev), the human turned vamp turned human again, and compare her love affair with bad boy fangster Damon (Ian Somerhalder) to Grey's Anatomy's Meredith and Dr. Mcdreamy. Or you may call Elena out as shallow and manipulative, and blame the "Dullena" relationship for sabotaging the show's ratings. Either way, Dobrev's exit from the show tonight—it's final according to EP Caroline Dries—means some big changes for The Vampire Diaries as it enters its 7th season. And sorry Elena haters, Dries also promises the character won't be dragged to hell like her wicked doppleganger Katherine.
Expect lots of teary goodbyes as Elena leaves town—or slips her mortal coil. And some acting-out by Damon (if not tonight, then surely when the show returns). Another original character, former werewolf and hybrid Tyler (Michael Trevino), also exits, possibly with witchy Liv (Penelope Mitchell). But in his case, a return before the show signs off seems likely.
We'll also learn whether witch dropout Dr. Jo (Jodi Lyn O'Keefe) and/or her embryonic twins survive being stabbed by her vengeful brother Kai (Chris Wood) during her wedding vows; whether Elena's ex Stefan (Paul Wesley) and her BFF Caroline (Candice Accola) make it official as Steroline and whether super witch Bonnie (Kat Graham) finally decides to kill everyone in Mystic Falls who's wronged her. Make that, just, everyone!
As for Elena, Dries promises "a beautiful end to her story. I'm excited for fans to see how we finish her journey." C'mon, surely the girl who lost two sets of parents and a guardian aunt before her 18th birthday deserves some beauty at the end.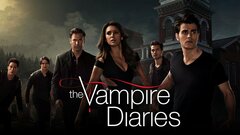 Powered by