What's Worth Watching: Will You Be Heading to Wolf Hall Finale?
Wolf Hall, "Master of Phantoms" (Sunday, May 10, 10/9c, PBS)
There's a decidedly deadly chill in the Tudor court of King Henry VIII (a monstrous Damian Lewis) as the tide turns against Anne Boleyn (the terrific Claire Foy) in the harrowing conclusion to Masterpiece's masterful historical miniseries, based on Hilary Mantel's best-selling novels. "Madam, nothing here is personal," insists a solemn, sinister Thomas Cromwell (an understated, enigmatic Mark Rylance). Yeah, right. Try convincing someone who's [Medieval Spoiler Alert] about to lose her head.
As Cromwell, at his king's bidding, forces false confessions among Anne's entourage to seal her fate, Rylance makes you aware of the deadening effect these royal duties have on his tormented soul. While he relishes enacting revenge on those who wronged his fallen mentor Cardinal Wolsey, Cromwell takes little pleasure in his tactics, such as breaking feckless court musician Mark Smeaton (Max Fowler): "If we have to torture sad creatures like that, what next? Stamping on dormice." Wolf Hall's mournful, bleak conclusion leaves us hungering for the next volume in Mantel's trilogy—and a sequel.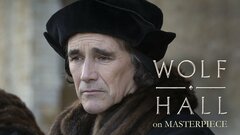 Powered by