Gotham's Jada Pinkett Smith: 'Fish Mooney Saved My Desire to Act'
The nails. The hair. The eyeball-gouging. All season long, Jada Pinkett Smith's sexy and sinister Mafiosa Fish Mooney has been bringing her fierceness to Gotham, giving fans a reason to cheer for the bad girl. As the Batman-prequel hit wraps up Season 1 on May 4, it sounds as if she's going to get even more menacing when Fish's blood feud with Penguin (Robin Lord Taylor) erupts into an all-out mob war. Someone warn Jim Gordon (Ben McKenzie) that he may need some body bags by the end of the hour!
Where do we find Fish in the finale, and how intense does the action get?
Fish makes some significant moves in the finale…the action is crazy! Fans will get to see some of their favorite characters get raw. Fish has a few amazing scenes, but there is a certain encounter with a scaly-faced, crooked-legged fellow that is pretty memorable.
You have been killing it as Fish–literally and figuratively. What has this role meant for you?
Having the opportunity to play this character made me enchanted with acting again. I can literally say Fish Mooney saved my desire to act. I don't think I have had this much fun with a character since I played Peaches in A Low Down Dirty Shame.
You've already said that you likely won't be back for Season 2. But can we ever really count Fish out?
When you watch the finale, make sure to watch very, very carefully. There are many, many surprises.
Gotham, Monday, May 4, 8/7c, Fox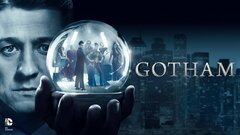 Gotham
where to stream
Powered by