Five Joys of the Gotham Season Finale
Pow! Bam! Damn! The first season of Fox's pre-Batman hit wrapped up last night with an hour that left us a little stunned and a lot in need of summer to be over already. The Gotham finale included unexpected exits, underground discoveries, and the merciful end of Maroni. It was so much fun and so packed with goodies for Batfans, we just had to share our favorite moments from the finale.
Jim, Class Hero
He's always been a hard-ass, but Jim Gordon (Ben McKenzie) really earned a gold star last night, going 100 percent action (comics) hero on the Commissioner's goons in a two-guns-a'blazin' showdown in the abandoned Gotham hospital. If that wasn't enough, he and Bullock (Donal Logue) followed that up by tag-teaming to save Falcone (John Doman) from pretty much every mobster in town. We could get used to this Butch and Sundance business.
Crazy Barbara
Given that twisted little grin she flashed after seeing The Ogre's torture-porn guest room a few weeks back, it was clear Jim's ex (Erin Richards) was a tad off. But when she agreed to undergo trauma counseling with Gordon's new squeeze, Leigh (Morena Baccarin), the future Batgirl's mother showed just how bonkers she'd gone, confessing to slitting her own parents' throats and unleashing some serious rage on the hot doc. The ensuing catfight? MEEE-ouch! Can't wait to see A) what kind of woman-scorned nastiness Babs will bring to the table in Season 2 B) if she survived that head banging.
The Dork Knights Rising
Between Nygma (Cory Michael Smith) losing his wits over Miss Kringle figuring out his crafty letter-writing secret, and Penguin's "I'm the king of Gotham!" raving like something out of The Tempest, the finale was a good time to be a nerd. And a super villain!
Clan of the Cave Bat
Yes. Yes. Hell yes! That was surely the entrance to what will become the Batcave that Bruce (David Mazouz) and Alfred (Sean Pertwee) discovered right at the end, and we are surely thrilled to see Lil' Wayne taking a baby step toward his future cowl self. With Selina (Camren Bicondova) teetering toward the dark side following her bad-girl makeover and alliance with Fish, we're already wondering if our mini-hero will share his new secret clubhouse with Cat-tween next year, or find himself with another foe he maybe didn't see coming.
Fish Sleeps with the Fishes
First off, is there anything more glorious than Jada Pinkett Smith's villainess with a mohawk, some skull bedazzling, and a vendetta? Good lord, the woman left teeth marks in every scene, right up to Fish's rooftop showdown with Oswald (Robin Lord Taylor) and that watery demise. Now, even though Smith has said that her contract was for one year, let's remember that we never saw a corpse, and there's always "special guest star" deals that can be cut over the summer. So fingers crossed we see La Mooney again!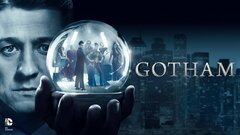 Gotham
where to stream
Powered by