Amantha Holden Is 'Rectify's Not-So-Secret Fire
From the very beginning, SundanceTV's Rectify has been the recipient of lavish praise, and justifiably so: The drama is a gorgeous meditation on life—more specifically, the life of Daniel Holden (Aden Young), a man learning how to live again after 19 years spent on Death Row.
It's also the story of Daniel's family; the small community of Paulie, Georgia; the players in a justice system that is often frightfully unjust. Of all the series' deeply drawn characters, though, Amantha Holden (Abigail Spencer) is easily identifiable as Rectify's reckoning force, the not-so-secret fire at its heart.
Let's start with the name: Amantha. It's the kind of name you could only find in the American South, a seeming amalgam of "Samantha" and "Amanda."
"That is absolutely the most southern name," says Spencer, who herself is from the South, the part of the Florida panhandle on the Gulf Coast known alternately as "Floribama" and "the Redneck Riviera." She recognized the series' authenticity, its empathy and refreshing lack of caricature, after reading just the first five pages of the script. "I am Amantha," Spencer says. "All those other roles, that's my good acting. This? Is actually who I am." Though the casting directors had previously cast her in a pilot as a Harvard-educated, very upscale lawyer, she needn't have worried—creator Ray McKinnon knew the moment she walked in the room that Spencer was their Amantha.
We met Amantha in the Rectify pilot as she was driving to see her brother released, the culmination of all her life's work, smoking a cigarette and sniping at her mother, stepbrother—anyone within earshot, really. "You would think this event would be this beautiful reawakening, this bringing back together a family," Spencer says. "Instead, it just sows more chaos and disparateness."
Amantha was just 12 years old when her older brother Daniel was convicted of murder and sentenced to death. It's only natural for that kind of family trauma to shape a girl, particularly when she's just learning to shape herself, but in Amantha's case, the obsession over freeing her big brother became her entire identity. It even extended to her romantic life: The only real relationship she's ever had is with Jon Stern (Luke Kirby), the lawyer who took up Daniel's appeal.
But just because Daniel's sentence was vacated because of new DNA evidence in the case, and he was released from prison, doesn't mean Paulie is ready to let him off. Season 2 begins with Daniel physically fighting for his life and segues into a legal battle, with Amantha still clinging to her identity as Daniel's savior. The conflict builds slowly, in true Rectify fashion: Daniel must decide whether to go to trial again and risk the same result as 19 years ago, or plead guilty to the murder charge, avoiding further jail time but essentially being banished from the state of Georgia.
Naturally, Amantha pushes for a retrial. "Season two was very hard," Spencer says. "It was so painful for Amantha to be at odds with Daniel, and for me to be at odds with Aden." Hearing Daniel say the words "I did it" would be a negation of the last 19 years of her life.
By the end of the season, Spencer says, Amantha "finally gets the gusto to be like, 'Hey, guy I gave my whole life to, if you go and say this thing, I can't be in your life anymore." And she's realized that fleeing Paulie for Boston with Jon is not a viable solution to her current crisis: "She has to figure out her life outside of Daniel and Jon."
What might that life look like? What does Amantha want? "She doesn't know yet," Spencer says with a laugh. "But it's cool, because you see someone not only fighting to change, but succeeding."
Rectify Season 3 premieres Thursday, July 9, 10/9c, SundanceTV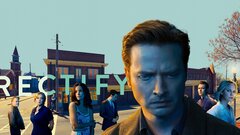 Rectify
where to stream
Powered by