Fox is Promoting Gotham with Empire's Music Fox is promoting Gotham with Empire's music
Hakeem Lyon's rap music can be heard in a promo for Gotham's final two episodes of the season.
Cobie Smulders reveals she was diagnosed with ovarian cancer while filming How I Met Your Mother's 3rd season
"I had tumors on both ovaries, and the cancer had spread into my lymph nodes and surrounding tissues," she tells Women's Health magazine, adding that it took multiple surgeries over two years to remove the cancerous tissue.
Mo'Nique: I have email proof Lee Daniels wanted me to play Empire's Cookie
Mo'Nique tells Sway Calloway that Lee Daniels told her, "You got the role, but you know, there's some technical stuff — 'I ain't never done TV before, so you gotta go through the technical part." PLUS: Kanye West jokingly warns Daniels not to use his Time 100 performance on "Empire."
Real Housewives of New Jersey star has earned $10.1 million as a Department of Justice whistleblower
Jim Marchese's mortgage firm recently collected $8.5 million as part of a settlement between the government and Bank of America.
Joss Whedon wasn't happy that Agents of S.H.I.E.L.D. brought Agent Coulson back to life
Whedon revealed his feelings in an interview with Mental Floss: "The Coulson thing was, I think, a little anomalous just because that really came from the television division, which is sort of considered to be its own subsection of the Marvel universe. As far as the fiction of the movies, Coulson is dead."
PBS should be embarrassed by the Finding Your Roots controversy, not Ben Affleck
As Mary Elizabeth Williams puts it, "Let me get this straight — the guy who did Gigli and Jersey Girl decided this was what he was going to be embarrassed about?" PLUS: How this controversy blew up when it should've been no big deal, and Affleck names the ancestor who owned slaves.
Don't expect Arrow to keep using the Lazarus Pit
Fan favorites won't be brought back.
Aziz Ansari on his Netflix comedy: "You'll really dig this show I think"
"Got rejected to play a 'Bobby Jindal' type on House of Cards, so I'm doing my own Netflix series. Filming in NYC now," Ansari wrote on Instagram.
MTV has never had a successful late-night talk show
That's why the latest late-night talk show, College Humor's "Middle of the Night Show," will likely fail.
Here are the TV stars attending Saturday's White House Correspondents' Dinner
"Nerd Prom" attendees include Billy Eichner, Gina Rodriguez, Téa Leoni, Nikolaj Coster-Waldau, Lucy Liu, Connie Britton, Gillian Jacobs, Timothy Simons, Kerry Washington, Anthony Anderson, Norman Reedus, Tracee Ellis Ross, Larry Wilmore, Alfre Woodard, Michelle Trachtenberg, Darby Stanchfield, Lauren Cohan, Gabourey Sidibe, Martha Stewart and Donald Trump.
To encourage voting, British TV channel aimed at young people will shut down on election day
Channel 4's E4, which launched Skins and airs The Big Bang Theory, aims to boost voter turnout by young people on election day by closing itself down for the British election next month.
See the Halt and Catch Fire Season 2 poster
Season 2's tagline: "Welcome to Mutiny."
Whatever happened to the cast of Coupling?
Steven Moffat's Friends-like comedy debuted 15 years ago next month. Smash alum Jack Davenport, perhaps the biggest star to come out of Coupling, is currently co-starring in Sarah Silverman's HBO pilot.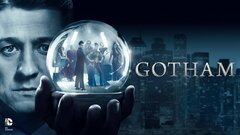 Gotham
where to stream
Powered by