Orphan Black's Evelyne Brochu on Delphine's Dark Side and Helena's Scorpion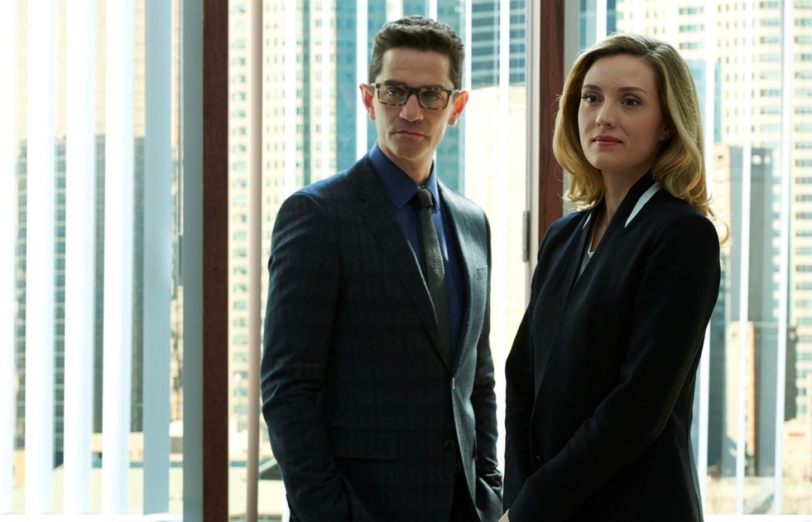 In Orphan Black's Season 3 premiere, we learned a pencil through the eye isn't enough to kill Rachel (Tatiana Maslany), the Castor clones (Ari Milen) are very, very real, and Helena (also Maslany) hallucinates scorpion friends, because of course she does. Plus, we saw Tatiana as Sarah playing Rachel, and as Alison playing Sarah, a feat we applaud every time. But the breakout character of the episode was Delphine (Evelyne Brochu). Not only did she break off her relationship with Cosima (shattering fans' hearts everywhere), she began her transformation into "the new Rachel," a transition that included torturing the old Rachel. We got her to tell us more about Delphine's dark side and what else is ahead this season.
Torturing Rachel through her now-empty eye socket was a side of Delphine we've never seen before. Should we be wary?
There's this fierceness to her that was always underlying her choices. With power comes a lot of difficulties, but it also brings you into a position to have revenge. So, is she a baddie or a goodie? The good thing about our show is that it's not that clear, but it's definitely a darker phase for Delphine; now that that side of her is revealed, we're going to see a whole bunch of sides of her that we didn't expect.
What is motivating her to take on this new role? Is it to protect all of Project Leda, or just Cosima?
At the beginning of the season it won't be really clear. There's obviously a plan, but the question I think for me, was raised in Season 2 when Cosima asks Delphine to love all of her sisters equally. Is she honoring that promise or is she not? We'll see.
One of the funniest bits in the episode is when you arrive and Felix (Jordan Gavaris) is like, "It's Delphine. God, she looks good." Did you have to change up your wardrobe and hair to become more Rachel-ized for this season?
Yeah. That was a very conscious move from all of the various teams: costumes, hair, [showrunners] Graeme [Manson] and John [Fawcett]–even the car that they chose. It was in the script. There was written, power suit, I remember. And I had a blowout that day because I had to get a haircut and it worked so well because to me, as an actor, or even as a person, what we wear is not random. It says a lot about where we are, what's our position, what's our social status, how we want to be perceived. So, at the start of the season, Delphine is in a whole new world. There's power involved that she didn't have before, but with that power comes responsibilities and because of those responsibilities, she has to make a radical change in how her life has been going thus far. I feel like it's very human, when you need to make radical changes, that haven't happened yet on a deeper level, we sometimes try to make them happen from the outside, like starting from the outside in.
Delphine tells Sarah that there are threats to Leda from the outside and the inside. Can you tell us more?
I think the whole season is about getting closer to the truth, and in Orphan Black world the truth means danger. So, there's a lot of mystery about who's pulling the strings on this project, who decided it would happen, what are the interests for this human biology science-fest that is Leda. Now we know that there's an entity called Topside, we bring in a whole new bunch of military clones called Castor, so I think the threats come from a lot of different places.
Is it weird to go from one scene where you're upset and breaking up with Cosima to torturing Rachel, because it's all Tatiana?
I think the reason why it's not strange to play opposite different clones played by the same woman is that she is so good at it. It's not only the mannerisms and the gestures and the voice, when Tatiana walks in as Rachel, something feels different in the room. She's that good. For me, I know obviously it's my buddy Tatiana behind that sleek wig, but still, there's all those memories of what happened last season to carry these types of scenes. Also, we didn't shoot it on the same day, and that really helps too.
Does Delphine really not know about the Castor clones? How much information is she keeping to herself?
I think the whole season's going to be about, what do I [Delphine] keep for myself and why. And it's not just Delphine. I think some people keep things from her that could help in her journey.
Are we going to see Cosima and Delphine together romantically again?
These two were brought together against all odds. Science was between them, I don't think Delphine was looking to be in love at all, and it just happened, and there is something there that is extremely powerful, and I don't think something like that can go away. I can't say if there will be romance or not, but I can say that they're definitely going to be connected to each other.
What can you tell us about Helena's scorpion?
Oh my gosh. I don't think I can tell you anything. When it comes to this show, it's really funny. It's the first time I've done sci-fi and I feel like if I reveal too much there's going to be, like, a guy in a lab coat with a baseball bat whose going to jump out of a mirror or something and start beating me up. [Laughs.] I'm really fearful of telling you too much.
We heard the scorpion is going to be a regular character going forward.
To me, that means that I'm in the coolest show on TV right now, if you think about it. That a scorpion is even a character? That f–king rocks.
Which other characters should we be paying attention to?
The beautiful thing about Orphan Black is we all get very chewy, meaty parts. I feel like all of us have something to carry and that people are attached to our characters, even though there's a lot of characters on the show, including a scorpion as we talked about before. We're even going to get to meet Scott's (Josh Vokey) cat this year. You have to look forward to that. Those very, very good scenes. I love Scott. He's the best. So I wouldn't say focus on one person, I think we're all to be followed.
Orphan Black, Saturdays, 9/8c, BBC America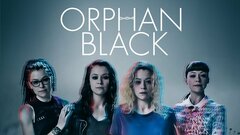 Powered by