WEtv Pulls Sex Box, May Change its Format WEtv pulls Sex Box, may change its format
The controversial dating series where couples have sex in a soundproof box failed to find an audience after airing five of nine episodes. In response, WEtv has pulled Sex Box and says, "we are working with our production partners on a potential reformatted version of the show."
How much longer can Fox stick with Idol?
The once-popular music competition hit a series low this week.
Louis CK: I quit Twitter because it made me feel bad
"It didn't make me feel good," the comedian tells SiriusXM's Opie. "It made me feel bad instead. So I stopped doing it." He adds: "Any time I tweeted anything I was like, 'Ugh don't like the way that came out.' And then four and a half million people saw it! It was the worst things I ever said, heard and seen by the most people. It's the worst possible scenario."
Lucious Lyon's Empire mansion is for sale
The Chicago-area home used on the Fox series is available for $13 million. PLUS: See Terrence Howard on Fox's Wayward Pines, and there will be a Terrence vs. Taraji Lip Sync Battle.
Outlander is fueled by the real-life romance of its showrunner and its costume designer
Showrunner Ronald D. Moore is married to Terry Dresbach, a costume designer he met on HBO's Carnivale. Moore says of penning the episode where Claire Randall marries Jamie Fraser, "When I wrote that, I thought, 'Wait 'til Terry reads this.' It's a little love letter to her." Her response: "I started crying. He's a hopeless romantic."
SNL documentary takes an unsparing look at the show's problems with race, sexism
Watching Live From New York, says Kevin Fallon, "it becomes clear that this isn't going to be quite the circle-jerk gathering of comedy's biggest stars that NBC's delightful, though at times masturbatory, anniversary special was—which is exactly what makes this anniversary toast to the troublemakers at Studio 8H the one that's worthwhile." PLUS: Bruce Jenner jokes are not off limits at "SNL."
Baz Luhrmann's Netflix series casts as its female lead a singer-songwriter with no acting experience
Herizen Guardiola will make her acting debut on The Get Down as a "shining, tenacious girl with a voice from God who dreams of disco stardom from the confines of her family's fiercely religious church walls."
Why ABC should renew American Crime, despite nobody watching
The racial drama from John Ridley got lost in midseason. It would've fared better in the fall.
ESPN suspends reporter Britt McHenry for 1 week after her snobby comments to a tow truck employee went viral
McHenry joined ESPN last year and used her position to berate a person whom she felt wasn't as good looking or as educated as her.
Matt Lauer bought a billboard to get back at Ellen
As their prank war escalates, Lauer had Ellen's head photoshopped on a plumber.
The Americans is full of dread, and Martha is the center of that dread
"Every part of Martha's existence elicits an 'oh God, something bad is going to happen' response from the audience," says Margaret Lyons. "That dread is the densest around Martha, but it exists in the entire show." PLUS: The Americans' hair and makeup person isn't a fan of Clark's wigs.
Why aren't hit black sitcoms from the '90s getting rebooted?
Family Matters, Sister, Sister and Fresh Prince of Bel-Air are among the shows that are ripe for a reboot.
Conan has become the best late-night show for standup comics
Conan O'Brien is doing what Johnny Carson used to do — and what his fellow late-night hosts rarely do — in consistently showcasing comedians. "The high frequency of stand-up performances on our show is all because Conan is such a fan of comedy," says Conan's standup booker, J.P. Buck.
TLC renews My 600-lb Life for Season 4
Ten new episodes are set for early next year.
David Hasselhoff stars in an '80s-style music video
Watch him do Kung Fu and ride a dinosaur.
Gillian Anderson is penning a "revolutionary self-help guide" for women
The X-Files and The Fall star is co-writing a book called "WE" that will focus on the spiritual, emotional and psychological needs of women. PLUS: David Duchovny's 2nd novel will be set in 1978.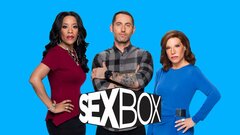 Sex Box
where to stream
Powered by