Netflix Gives Blind Daredevil Fans 'Audio Descriptions' Netflix gives blind Daredevil fans "audio descriptions"
The service is available today only for the blind superhero series Daredevil, but Netflix promises it will expand to its other TV titles. As Netflix describes it, "Audio description is a narration track that describes what is happening on-screen, including physical actions, facial expressions, costumes, settings and scene changes." PLUS: Daredevil star Deborah Ann Woll's boyfriend is blind.
Report: A decision on Brian Williams' NBC future could be coming soon
The Washington Post reports that Williams' NBC bosses have to determine Williams' fate before they head into the Upfronts next month. "And at the moment, the betting seems to be against Williams's return," says the Post. PLUS: Tom Brokaw says he had a "cordial relationship" with Williams.
Person of Interest reached out to Taraji P. Henson for tonight's return long before her Empire success
"We had been looking for an opportunity for Taraji's character to return to the show for some time," says creator Jonah Nolan. "And I reached out to her last year, said we had a killer idea for an episode, and she was incredibly excited to come back. We were incredibly excited to have her back."
Following death threats, the female host tipped to be the next Top Gear presenter takes a Twitter break
"This morning, someone suggested they'd like to see me burn to death," tweeted The Great British Bake Off's Sue Perkins. She tweeted that she's received comments from "blokes wishing me dead." Last week, Perkins was tipped as the favorite to replace Jeremy Clarkson, but her odds have since slipped.
E! orders Sex with Brody starring Brody Jenner
The roundtable talk show will feature Bruce Jenner's son as a "sex connoisseur."
Jonathan Groff tears up as he calls Looking "my favorite thing that I've ever worked on"
Groff was honored at a gala for the LGBTQ community, where he said: "Getting the opportunity to tell the story, … I'm not just sad that we didn't get picked up for a third season; getting the opportunity to tell stories about our community was something we took very seriously and put a lot of great thought and care into. It was one of the great joys of being part of that project."
Shonda Rhimes is tired of being asked questions about the diversity of her shows
"This is not the Jim Crow south … I still can't believe I get asked about it all the time, as if being normal — TV looking like the normal world — is an innovation," Rhimes said while being honored by the National Association of Broadcasters Monday. "You'd think people would be embarrassed — I'd think so — embarrassed to ask the question in the 21st Century."
IFC to air a 21-hour Orphan Black marathon
The marathon beginning Friday at midnight will give newbies a chance to catch up on the first two seasons ahead of its premiere Saturday on BBC America.
How Breaking Bad's cinematographer tackled directing Game of Thrones
Michael Slovis, who worked on more than 50 Breaking Bad episodes as either director or cinematographer, was tasked with directing the first two episodes of Game of Thrones Season 5. So he read all the books, then marathoned the entire series — twice. "When we worked on Breaking Bad, everybody would come to work and talk about Game of Thrones," he says. "And when I worked on Game of Thrones, even a year and a half after it was canceled, everybody … wanted to know questions about Breaking Bad. There is a tremendous mutual admiration society between the two camps and I believe there is between David (Benioff), Dan (Weiss), and Vince (Gilligan) as well." PLUS: Aiden Gillen talks Littlefinger and Sansa.
Honda to sponsor SNL web series Saturday Night Line
The digital series sends cast members to chat with people waiting in line for SNL tickets, and to offer them prizes.
Frozen will air across Disney's TV networks starting in February 2016
ABC will air the hit movie, and so will ABC Family, Disney Junior, Disney XD and Disney Channel.
CBS releases 21 years worth of Letterman pics
Check out the gallery documenting Dave's time on The Late Show.
Nina Dobrev cries in pics she's sharing of her final days on The Vampire Diaries
"Ok. Officially a mess. No hiding it anymore," she captioned a teary-eyed photo of her, Kat Graham and Candice Accola.
Girls star Jemima Kirke talks frankly about her abortion experience in a PSA
Kirke talks about her college experience with abortion in a public service announcement for the Center for Reproductive Rights.
Sesame Street teaches Zach Be Nimble to Zach Galifianakis
Galifianakis was unfamiliar with the word "nimble."
Hallmark Channel's Home & Family renewed
The Mark Steines/Cristina Ferrare lifestyle show will be back for a 52-week 4th season.
Farewell, Justified: The most underappreciated drama of our time
The FX series was neither influential nor innovative. So what made it one of the best TV shows of this century? As Adam Epstein explains, "To say nothing of its uniformly excellent writing and acting, Justified was, perhaps more than any other show, one that knew precisely what it was and what it wanted to accomplish. It was always perfectly comfortable in its own skin, and despite a few missteps along the way, it refused to be anything other than its strange, funny, verbose, serpentine self." PLUS: Justified was endlessly-quotable with amazing characters, it showed off Timothy Olyphant's comedy chops, Joelle Carter describes the difference between her and Ava, Nick Searcy is Hollywood's angriest conservative, Walton Goggins explains the Raylan-Boyd dynamic, Justified had the most fascinating cast of characters, here are the best quotes, exec producer Graham Yost picks Justified's best episodes, cast members say if they're Team Boyd or Team Raylan, how Justified got women right, Yost previews the series finale, and the cast and creator share their favorite deaths.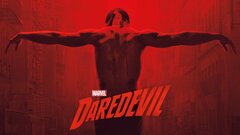 Powered by