Milo Ventimiglia Says His New Gotham Villain Is 'A Complete Psychopath'
Gotham marks its return tonight (April 13) with a new villain taking hold of Gotham City, causing trouble for Det. James Gordon (Ben McKenzie) and the rest of the GCPD. The Ogre, who appeared in the Batman comics as a genetically altered man picking off the scientists to blame for his condition, makes his Gotham appearance as the smooth talking Jason Lennon, played by Heroes vet and Gilmore Girls alum Milo Ventimiglia. The actor talked to us about his take on the Ogre, what's next for Gotham, and his interest in a Gilmore Girls reboot (because really, who doesn't want that?).
Let's talk about your version of the Ogre, Jason Lennon.
Jason Lennon is a serial killer. A guy looking for love, who does so in a very wrong way. He's looking for unconditional love, which I think sounds like a very simple, very nice thing to be looking for, but the measures that he takes to get it, to have women prove to him that he loves them—he just turns into a psychopath. He's just a complete psychopath. There isn't any real resemblance to what was in the DC Universe. It's not something that fans are going to get upset with, hopefully, because I didn't play it the way that they were looking for, which is always a terrifying thing.
It looks like he's going to be targeting Barbara Kean (Erin Richards). How does Gordon react to that?
Yeah, you can imagine that Jim's not going to react so well. Even though things aren't so swell between him and Barbara, Jim's still a great guy. He doesn't want to see harm brought on anybody. He's the good cop of Gotham. So, even though the Ogre has a run-in with Barbara, and a very interesting path with her, I don't think Jim's the kind of guy that's going to sit on his heels and let things happen. It's an interesting turn to see the valor of Jim Gordon.
Do we know what's happened to Jason Lennon to make him into a serial killer?
You will find out. That's actually something that was always a question because you want to think about that. What makes a villain? What makes someone step out of the light and go into the shadows? And it's something that wasn't held back on. If you're a smart person, and I know the majority of the fan base for Gotham are definitely savvy and understand the comic book world, you will be able to see well enough why he is how he is.
Is there any humanity to his character, or is it just an act to get to that eventual murder?
You know, I never played it as an act to get to that murder–as a means to an end. I always took it as genuine: He wants to find love. He didn't quite have it when he was younger, which you'll learn, and he wants it so badly, so desperately. What he's initially asking for and wanting, is genuine. He is a human being. He's not a complete monster. That's something that you can't discount—his love. But his method and approach of getting it and asking for it and wanting to have it, well, that's not very human being of him.
Were you already a fan of Gotham before getting this role?
I was, actually. I'm a comic book fan and a huge fan of Bruno Heller. I've been friends with Ben McKenzie since my twenties, and known Donal Logue [who plays Harvey Bullock] and directed him in a commercial campaign for Warner Brothers. This is a really cool, kick-ass version of a story that I already knew. So, when I got the call that they wanted me to join the cast for the rest of the season as a villain, I was like, "This is great!"
Who's your favorite character in the series? And you can't say yourself.
I can't say myself even if I wanted to. Maybe Jason Lennon would say himself, but that's out of arrogance. I've really enjoyed Robin Lord Taylor's Oswald Cobblepot as the Penguin. I've enjoyed watching him zigzag around different allegiances and play this slimy guy, but also smart, and calculated, and manipulative. It's just fun to watch. That's the best part about this show: It's fun.
What can we expect to see for the rest of the season?
Dark, dark, dark, dark. Bad, bad, bad, bad. Evil, evil, evil, evil. You're going to see a very bad human being. And you've got to wonder whose going to win in the end.
You've already denied having anything to do with the upcoming Heroes reboot, Heroes Reborn. If there were a Gilmore Girls reboot, would you be interested?
I think I would do it. Yes. I would do it because of Amy Sherman-Palladino and Daniel Palladino, I'd love to see that. They are amazing writers and they gave us cool characters to play and stories and everything day in and day out. It was a blast. Of course, it's a trend that everything is coming back, but I would want to do it just to be on set with Dan and Amy because those were great times. So yeah, I absolutely would.
Great. Now I'm just going be sitting here hoping it happens!
Yeah, right. And I'm going to hope that The Smiths get reunited.
Gotham, Monday, April 13, 8/7c, Fox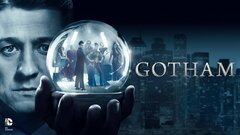 Gotham
where to stream
Powered by