Why Game of Thrones had to Diverge from the Books for Season 5 Premiere Ending Why Game of Thrones had to diverge from the books for Season 5 premiere ending
Why last night's ending was a very necessary departure from the books: George R.R. Martin's 4th and 5th novels could have used a lot of editing. PLUS: What it was like filming that final scene, what it was like receiving a "lovely email" from the show's creators, the season premiere annotated, George R.R. Martin on the flashback scene, the cast reacts, GoT is taking its cues from The Godfather, and why Jon Snow is the worst.
How Silicon Valley paid tribute to Christopher Evan Welch
"When we came in the first day of the second season, we were like, 'How do we deal with this?'" says Mike Judge. "It was difficult."
A.D. The Bible Continues launches an online talk show
Former QB Kurt Warner joins producers Mark Burnett and Roma Downey in the first episode of "Beyond A.D.," hosted by E!'s Jason Kennedy.
What it's like when Patton Oswalt gropes you on Veep
Says Timothy Simons: "There is like this silent negotiation on set between Patton and I in the lead-up because I don't know if he has ever been in a sex scene before, but I haven't because like, nobody wants to see that. (Laughs.)"
U.S. Army to honor Stephen Colbert
Army Chief of Staff Gen. Ray Odierno, who was part of the Colbert Report finale sing-along and who once shaved Colbert's head, will present Colbert with the Outstanding Civilian Service Award. PLUS: Jerry Seinfeld and Colbert last week filmed Comedians in Cars Getting Coffee.
John Oliver: J.K. Rowling apologized to me for saying I look like Harry Potter
She told him, "You look so much like Harry," and added, "That's probably not what grown men want to hear." PLUS: Oliver gets Michael Bolton to sing an ode to the IRS.
Ally McBeal cast reunited at the TV Land Awards
Calista Flockhart and David E. Kelley joined the cast in celebrating The Groundbreaking Award.
British Prime Minister David Cameron's eldest daughter keeps comparing him to Modern Family's Phil Dunphy
Nancy Cameron likes to say 'That is SO Phil Dunphy" to highlight the flaws of her dad, who's running for re-election.
Patients, friends are divided over how Unbreakable Kimmy Schmidt affected Dr. Fredric Brandt
To patients of the cosmetic dermatologist to the stars, Brandt, who committed suicide last week, made light of Martin Short's apparent portrayal of him. "But with closer friends," the NY Times reports, "Dr. Brandt brought it up numerous times, in far less lighthearted terms."
In defense of this week's bad Mad Men episode
The focus on three minor characters set the stage for the rest of the season. PLUS: It was an unsatisfying episode by design, and it was still frustrating and dull even for those with a high tolerance for Don Draper not changing.
Jerry O'Connell may host a daily gossip show
O'Connell, whose talk show with wife Rebecca Romijn was rejected, could host a gossip show from the website Radar Online.
MTV unveils the trailer for Scream
Scream the TV Series, starring Bella Thorne, debuts June 30.
Freaks and Geeks creator: There will be no reboot
"I think Freaks and Geeks may just be set in amber for now," Paul Feig said at the TV Land Awards reunion. "I don't think I could afford the cast. They're all too big now."
Law enforcement asked The Wire to remove details about avoiding wiretaps
"At points, we were asked by law enforcement not to reveal certain vulnerabilities in our plotlines," says David Simon. PLUS: Isiah Whitlock Jr. raised more than enough money for his Clay Davis bobblehead.
MTV Movie Awards: The best and worst moments
Amy Schumer's archery bit died, despite "killing" Jimmy Kimmel. PLUS: Watch Schumer insert herself into Boyhood and other movies.
Man on Divorce Court accuses his girlfriend of sleeping with the entire Wu-Tang Clan
The girlfriend, however, insists she "kept her ladypoints together."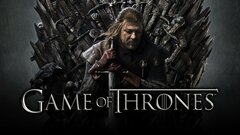 Powered by