Scream The TV Series to Cut Into the MTV Movie Awards
What's your favorite scary TV show? MTV is hoping that its upcoming series based on the Scream flicks will be the answer, and they're planning to capitalize on one of their biggest audiences of the year to sell you on the scares.
At some point during this Sunday's MTV Movie Awards (airing live starting at 8/7c,) the small-screen Scream's star Bella Thorne (The Duff) will introduce the world premiere of the show's trailer and finally announce the premiere date. And while there's no sign of Deputy Dewey, Gale Weathers, Sidney Prescott or Ghostface, diehards can take comfort that the series—featuring Thorne, Arrow's Bex Taylor-Klaus, Tracy Middendorf (The Last Ship) and Joel Gretsch (Witches of East End)—will share the feature films' love of pop-culture references, gruesome murders, teens running amok, and a mysterious link between at least one character and the central serial killer.
And if that's not enough to encourage fans, there's also the fact that MTV has done a pretty damn good job adapting Teen Wolf into a hit series that has very little in common with the original films. We'll be posting the trailer on TVInsider.com Sunday after the premiere, so check back here if you miss the Movie Awards!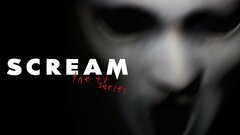 Powered by