Humankind, Beware: It's the Animals' World on 'Zoo'
In the 1960s, Alfred Hitchcock gave us a localized aviary apocalypse in The Birds. Then beasts went really bonkers in the 1970s with Empire of the Ants, Frogs, The Food of the Gods, Day of the Animals, The Pack and a little movie called Jaws. In recent decades, it's taken massive dinosaurs and flying sharks to get our attention. But no one took the crazy-critters genre truly global and cross-species until James Patterson and Michael Ledwidge collaborated on the bestselling novel Zoo, which roars to life as a series on CBS. In the 13-episode thriller, a ragtag team of experts races to stop animals from going on a rampage and stomping out mankind.
Angry bears? Mad wolves? Ticked-off lions? Check, check, check. Zoo has some ill-intentioned rats, too. And while wild animals certainly get their due in the show, so do mild animals. "Obviously, one of the things this story sparks is the notion of 'Oh my God, I have animals in the house! We have a cat!'" says Patterson, who serves as an executive producer on the series. (If the show creeps you out the way it's supposed to, don't be surprised if you find yourself sticking poor Rover out in the yard every Tuesday night this summer.)
The creators of the show, however, stop short of labeling it a horror series, "even though John Carpenter, who's the master of horror, wrote our main title theme music," executive producer Jeff Pinkner says. "This is the paradox of our show: It's not an animal-attack-of-the-week show, and yet there are animal attacks every week!"
In addition to those chills, expect to find some of the procedural aspects that have pulled in major ratings for the network's NCIS and CSI franchises. The book took a more minimalist approach to heroism, centering around a lone-wolf protagonist, Jackson Oz, and his girlfriend. But to fill out the series, Oz (Mad Men's James Wolk) is now part of a five-person ensemble that goes globe-trotting in search of a solution to the critter conundrum that a mysterious group is trying to keep under wraps.
On location in New Orleans, we get a glimpse of that teamwork. There's no squad room, so the five individuals who've been recruited by the government to curb the epidemic are convening in an airport bar (actually a lounge inside NOLA's Smoothie King Center). Sitting down at the table with a well-earned drink, veterinary scientist Mitch Morgan (Billy Burke) tells the others: "Drink now, because who knows where we'll be tomorrow, right?… What's next? I'm feeling kind of cocky now that I just beat a bat plague with 20 bucks' worth of used hardware."
That irreverent line helps set the tone, which Burke describes as "serious enough to make you keep interest and root for the team, but not taking itself so seriously that you get pissed off at it." His character has some of the more angsty personal backstory moments, since Mitch is "not the happiest guy in the world and just not a big fan of people in general. That's why he's chosen to spend his life hanging out with animals. Hopefully, he'll open up a little bit." Or at least just start taking it all out on bats.
As Oz, Wolk gets to carry a more conventionally heroic load. "My character has definitely been through some Indiana Jones–type trials," he says between takes. "I think on Day 1, I was chased off a cliff, so there's a lot of action. But no one's escaping unbruised on this show. Like my split lip?" Those facial injuries—courtesy of the makeup department—represent "damage done by humans," in case anyone thought the show's antagonists would be strictly of the four-legged variety.
Nonso Anozie, who plays Oz's sensitive safari partner Abraham Kenyatta, is happy that the series uses Patterson's novel only as a starting point, "because in the book my character dies early on!" (In Zoo, Anozie has his second on-set encounter with real wolves, following 2011's The Grey.) Also on board: Nora Arnezeder as Chloe Tousignant, a French intelligence agent who's not particularly an animal fan, having nearly been mauled to death by lions in the premiere; and Kristen Connolly, who should be well used to grizzlies and vipers after her run on House of Cards, as a blogger trying to get the ultimate scoop on why these animals have turned in the first place.
The answer to the mystery will be wholly different from what it was in the book—where technology was to blame—but still point toward the damage humans are doing to the globe as a cause for the impending reversal in the food chain. "I'm not a message person," Patterson says, "but hopefully people will go, 'That was cool,' then walk away and actually think afterward. When you watch San Andreas, I don't know what you're supposed to think: Move out of California? In this case, there are a lot of things you can do to alleviate the situation." But he's hesitant to get on a soapbox about specifics, because "this is
entertainment—not an Al Gore film."
Pinkner, who previously worked on Lost and Fringe, says he "learned a lesson that if you hold a mystery forever, it can never be as satisfying as all the theories the audience will come up with along the way." So Zoo will parcel out some solid explanations by the end of its run this summer, even though several potential future seasons are all mapped out.
Does that mean the team will figure out the cause of the pandemic but not how to stop the world's animals from mauling people? "Well, maybe they will," Pinkner cautions. "And then maybe people start mauling people. Who knows?"
ZOO, Series premiere, Tuesday, June 30, 9/8c, CBS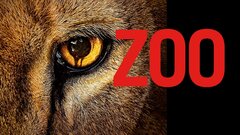 Zoo
where to stream
Powered by