Critic's Notebook: The Lives Not Lived on Mad Men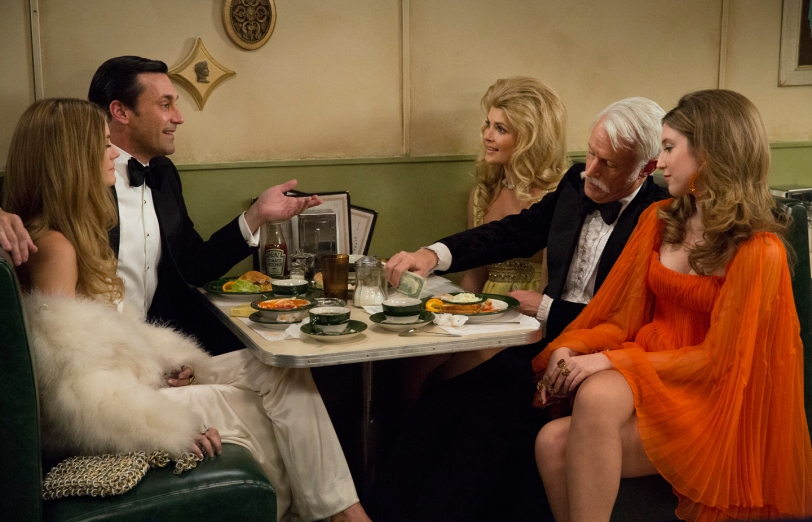 It's so easy to be seduced by Mad Men, even though we know from experience that a cold dose of unromantic reality is rarely far behind. And so the last half of the final season began Sunday night, drenched in a melancholic glamour embodied by Jon Hamm's mesmerizing performance as Don Draper, conveying so much handsomely internal struggle with each enigmatic gaze. In the dazzling opening sequence, set to Peggy Lee's haunting "Is That All There Is," Don walks a beautiful model swathed in chinchilla through an audition-as-seduction. It's oh so come-hither intimate, until we realize they're not alone, but merely going through the paces on an assembly line in front of a couch full of jaded ad execs and clients.
Don and the other partners are now living large in the wake of the agency's McCann merger, but does money buy them love, let alone happiness? What do you think? On the town with a bevy of beauties and a bushy-mustached Roger (John Slattery)—the facial hair alone in this episode deserves an Emmy nomination—playboy Don is existentially unsettled by an encounter with bookish waitress Di (Elizabeth Reaser in a subtly evocative guest performance), who reminds him of someone. Maybe ex-lover Rachel Katz, formerly Menken (Maggie Siff)? Rachel re-enters Don's always-fertile dreamscape, wearing a fur like one of his sexy models, purring, "I'm supposed to tell you you missed your flight." (Remember when he tried to get her to run away with him to California?)
Way to lay out a theme, Matthew Weiner. Throughout the artfully written (by series creator Weiner) and directed (by Scott Hornbacher) mid-season premiere, Don and his colleagues are continually confronted with the consequences of paths not taken, lives not lived, and the possibilities that may yet lie ahead. (Nice set-up for a final run of episodes, right?)
Don's latest epiphany is the most sorrowful, learning that Rachel has died (of leukemia) just a week previous to his dream, the shock of which sends him back to the diner, and dour Di, who takes him in the back alley for a quickie. His latest conquest? Hardly. Di assumes Don is the one who left a $100 tip—it was cocky Roger—and wearily, warily figures it was an advance for sex. Another bitter wake-up call awaits Don when he goes to pay respects to Rachel's family sitting shiva, and gets a reception that's anything but warm. Rachel's bitter sister (Rebecca Creskoff), who obviously knows Don's past with Rachel and can't fathom why he's there, informs this refugee from two broken marriages that Rachel "lived the life she wanted to live. She had everything." Even if it isn't true (we'll probably never know), this revelation sends Don into a spiral of self-reflection—and back to the diner, where a more sympathetic Di observes, "When people die, everything gets mixed up. … You just want to make sense of it but you can't." Don just wants to sit and brood, and that's where we leave him.
In a much happier state by episode's end is Ken Cosgrove (Aaron Staton), the firm's creatively unfulfilled head of accounts, whose father-in-law (Ray Wise) over at Dow Chemical has just retired, feigning enthusiasm for new experiences—like eating his first Pop Tart? Ken's wife badgers him to quit and follow his dream of being an author, and when he's abruptly fired by a nemesis from McCann (with Roger's smug acquiescence), Ken later tells Don he feels liberated, that it's a sign of "the life not lived." And in a rare moment (for this show) of jubilant triumph, Ken becomes Dow's head of advertising and confronts his former bosses, crowing, "I'm going to be your client, and I hate to tell you [which he obviously doesn't], but I'm very hard to please." Go, Ken! (Although you can't help but wonder if/when Ken will sour again on advertising, which he knows isn't his true calling.)
Caught somewhere in the middle is all-work-and-too-little-play Peggy Olson (the wonderful Elisabeth Moss), who grudgingly agrees to go on a blind date with mousy underling Johnny Mathis's brother-in-law Stevie—who turns out to be a winner (nicely played by Devon Gummersall, all grown up from his My So-Called Life days). This unconventional between-jobs lawyer admires the spunk of a woman who "doesn't put up with things" like a botched restaurant food order, and he inspires a tipsy Peggy, who doesn't know from vacations, to impulsively fly off with him to Paris—if only she could find her never-used passport. (It's in her desk at work, tellingly.) Next day, she's downing Alka-Seltzer, second-guessing the outlandish notion of flying off with someone she barely knows.
Will she someday have a dream of Stevie saying, "I'm supposed to tell you you missed your flight"? Let's hope not. Regrets suck. Just ask Don.
Though the 1960s (not to mention Mad Men) is almost over, with its turbulent social change, some things haven't improved—including the rampant, vulgar workplace sexism Joan is subjected to, when she and Peggy made a pitch to boorish young department-store reps on behalf of their embattled pantyhose client. "Why aren't you in the brassiere business?" one of them leers. "You're a work of art." Christina Hendricks seethes masterfully until she's finally alone with Peggy, erupting into a painful confrontation with each recriminating the other, causing Peggy to resentfully blurt, "You're filthy rich. You don't have to do anything you don't want to." And how does Joan compensate? With an Oscar de la Renta shopping spree, during which a saleswoman recognizes Joan from her brief period as a shopgirl. Which Joan, being too proud, denies. (Unlike Don, who's now openly talking to strangers about his once-buried past of emotional poverty.)
What does the future hold for these unsettled, endlessly fascinating characters in the remaining six chapters? Even though AMC unconscionably made us wait a year before resuming the story, we've fallen under Mad Men's spell again and can't wait to find out. No regrets, please.
Mad Men airs Sundays, 10/9c, on AMC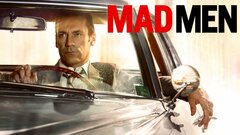 Mad Men
where to stream
Powered by