'Power' Grab! A Look at Season 4 of Starz's Highest Rated Primetime Drama
On the Starz drama Power, looks tend to be deceiving. That goes for the world the series portrays—glitzy on the outside, gritty beneath the surface—as well as for the characters seeking to disguise their true selves, including the guy at the center of it all: James St. Patrick (Omari Hardwick, above). James, aka Ghost, is a Manhattan nightclub owner and covert criminal mastermind who's been trying, in vain, to straighten up and fly right.
Looks are equally deceiving for the show itself. During an early February visit to Power's Brooklyn soundstage, production on Season 4 is humming along without fanfare. The biggest buzz among the cast members—a preternaturally attractive bunch who mostly fly under the radar, far from the purview of TMZ—is that a catering truck has just arrived to serve up gourmet hot wings. (Cue the stampede!) In other words, you'd never guess you were on the set of a massive hit. But the numbers tell a different story: Season 3 raked in 8 million viewers, making Power the second-highest-rated series on premium cable (behind Game of Thrones); it tramples most network fare too. The secret to its success? "I wish I knew," creator Courtney Kemp says with a laugh. "But in America, sex and violence always sell!"
Well, then, business is about to start booming again. The premiere will pick up where the finale left off, with Ghost getting charged for the murder of FBI agent Greg Knox (Andy Bean). Although he's guilty of plenty—like drug running and mayhem—he's innocent of this, and his reputation as an upstanding citizen is in ruins. Adding to the cause for self-righteous indignation? The knowledge that his mistress-slash-first love, Assistant U.S. Attorney Angela Valdes (Lela Loren), is the one who landed him in the clink. "Ghost is a man scorned," Hardwick says. "It would be hard to believe that he could find his way back to Angela's arms after what she did."
Unsurprisingly, life in jail will prove especially challenging for a control freak accustomed to micromanaging every aspect of his carefully constructed universe. "It's a torturous time for him, physically and emotionally," Kemp confirms. The toll it takes is chilling, says Hardwick, who slept at a real prison for multiple nights to prepare: "He's like a caged lion, which might be the scariest Ghost yet."
He won't be the only one grappling with a new world order. While his lawyer, Joe Proctor (Jerry Ferrara), angles for his freedom, Ghost's wife, Tasha (Naturi Naughton), will fight to keep their financial empire afloat and protect their kids (see sidebar). "Right now, she's not looking to heal this marriage. She's just trying to keep her family together," Naughton says. She'll get help, per usual, from Ghost's ride-or-die partner, Tommy (Joseph Sikora), who's growing into his expanded role with the drug cartel…and his independence. "There's still true love between Tommy and Ghost, but the trust between them is so frazzled," Sikora says.
Trust—or the lack thereof—will be a running theme, with lots of shifting alliances, bloodshed and betrayal to come. "It just gets crazier and crazier. The descent is almost dizzying," Loren says. And for Ghost to be a full participant in the melee, odds are his trial will wrap up sooner rather than later. "Obviously, it would be slow and ponderous to leave him in the courtroom forever," Kemp teases. "But getting out of jail doesn't mean that he's out of danger."
Which raises a question: If and when he's sprung, where does all this leave his core mission of going legit? "In order for Ghost to truly get to the other side, he has to drop the delusions and be honest with himself," Hardwick says. "By the end of this season, it's almost like we're going to be starting at zero again, with a whole journey ahead of us to go." Sounds like somebody better order more hot wings.
Power, Season Premiere, Sunday, June 25, 9/8c, Starz
PLAYING TO WIN

Tasha (Naturi Naughton) "Her husband going to prison is probably the scariest time in Tasha's life, but it also empowers her," says Naughton (below). "She's going to step into a leadership position and start taking over."
Kanan(Curtis "50 Cent" Jackson) Kanan will continue to manipulate Ghost's teenage son, Tariq (Michael Rainey Jr.), in an ongoing effort to bring down his nemesis. "Kanan is so happy to see Ghost living out his worst nightmare," Kemp says of the drug-dealing baddie played by 50 Cent, who is also an executive producer.
Tommy (Joseph Sikora) Now that Ghost is no longer his partner in the drug game, "Tommy has become hugely powerful," says Sikora. "He's more feared than Ghost ever was, and that helps him retain a hold over people."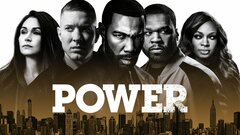 Power
where to stream
Powered by