You Read His Twitter Feed, Now See Patton Oswalt Guest Star on Battle Creek (VIDEO)
Comedian Patton Oswalt is making headlines today for a long series of Tweets last night in spirited defense of comedy and new The Daily Show host Trevor Noah (who has come under fire for past Tweets he made that have been deemed anti-Semitic and sexist).
But on Sunday's episode of the new CBS drama Battle Creek, it's Oswalt's character who will be making waves. Oswalt will guest star as Mayor Scooter Hardy, whose appetite for parties and drugs may be the reason he falls victim to an assassination attempt while attending the Cereal Capital of the World's annual "Breakfast Day." (The episode's title, naturally, is "Cereal Killer.")
[jwplatform hTobKNjq]
Battle Creek stars Josh Duhamel and Dean Winters as mismatched law enforcement officers patrolling Battle Creek, Michigan. The series airs Sundays at 10/9c on CBS.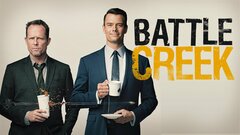 Powered by