A Group Challenge Raises the Drama Level on 'RuPaul's Drag Race' (VIDEO)
We're down to Season 9's final five on RuPaul's Drag Race, which means tension is running higher than the six-inch platform acrylic heels the queens sashay in. On Friday night's episode, the remaining queens compete in a "queer culture pageant"—whatever that means—and it's not long before the shade gets real.
In this exclusive clip, Alexis Michelle, Peppermint, Sasha Velour, Shea Couleé and Trinity Taylor ditch their wigs and finery in favor of some athleisure wear to rehearse for what looks like a rhythmic gymnastics-inspired performance. No tea, no shade, but isn't rhythmic gymnastics just, like, dressage for people? And to paraphrase Patsy Stone, if you put five dressage horses on a stage together they'll just kick the sh-t out of each other.
Case in point: Alexis is not happy with the way this rehearsal sesh is going. She like, lived in a theater or something as a child and knows what it means to stage a musical number. But Shea and Sasha are dominating the rehearsal, disregarding her Broadway calibre suggestions for the number's choreography and generally dropping the ball—but not their ribbons!
Check out the clip below:
RuPaul's Drag Race, Fridays, 8/7c, VH1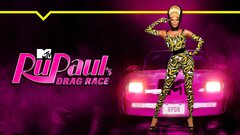 Powered by