'Fire Island' Preview: The Boys Confront Patrick About His Post-Summer Plans (VIDEO)
It's not that uncommon for boys with slammin' bods to travel from all over the country to work in the gayer-than-thou Fire Island hamlet know as The Pines, spending the summer months bartending, waiting tables…etc. They're like the counselors at gay summer camp; they don't actually live there once the season is over.
Patrick is one of those guys, and in this exclusive clip from Thursday night's penultimate episode of Logo's Fire Island, house mothers Jorge and Khasan sit the wayward faerie down for a little heart-to-heart about his post-summer plans.
Jorge in particular can't seem to wrap his mind around Patrick's devil-may-care lifestyle. "I would be afraid," he says. "I would sh*t my pants if I didn't know where I was gonna go after the summer."
Patrick tho? He's all like, But I'm, I'm, I'm, I'm, I'm, I'm / A gypsy, gypsy, gypsy, I'm—to paraphrase Lady Gaga.
Also, let's just take a moment to appreciate the fact that Fire Island is probably the only show on TV on which you can see three dudes having a serious convo about life choices in which one of them is wearing a neon zebra print bikini and nothing else. Patrick, keep living your best life, gurl.
Fire Island, Thursdays at 8/7c on Logo.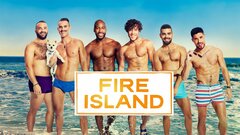 Powered by