What's Worth Watching: An 'American Odyssey' Begins
American Odyssey, "Gone Elvis" (Sunday, April 5, 10/9c, NBC)
There are tried-and-true memes in this new drama that bring to mind thrillers like 1975's Three Days of the Condor all the way to today's deliciously crazy Scandal. In this Odyssey of secret government cabals tied into nefarious firms, three protagonists emerge: Odelle Ballard (Anna Friel) a soldier trying to survive terrorist—and rogue American—forces in Mali; Harrison Walters (Jake Robinson), a rich kid turned lefty protester; and Peter Decker (Peter Facinelli), a disillusioned corporate lawyer. They eventually cross paths as they each stumble into a worldwide conspiracy that reaches into the highest levels of CIA and U.S. business interests.
American Odyssey—previously just titled Odyssey—sets itself apart from a genre that is typically all about the boys by focusing on the journey of Sergeant Ballard, the sole survivor of her Special Ops unit's massacre by a corrupt group of military contractors. Like that ancient Greek tale referenced in the show's title, Ballard faces myriad obstacles as she fights to make her way home. Only in this version, it's not the Cyclops she battles, but the US of A's infamous military industrial complex—with a little Al Qaeda thrown in for topical seasoning.
And oh yeah, as the show's new title and matching promo poster indicate, Odelle is definitely American and she knows her way around a military-grade weapon. Her sniper prowess is as yet unknown.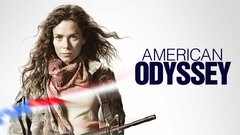 Powered by