Roush Review: 'Downward Dog' Is a Howl
We're nowhere near the dog days of summer, which is when you might rightly expect to see a network try to sneak on something as ridiculous sounding as a sitcom about a talking dog.
But hush my puppies if Downward Dog isn't one of the most pleasant and unexpectedly endearing surprises of this late spring season. Unlike ABC's last "what were they thinking" high-concept sitcom, the appalling Imaginary Mary with its shrill mutant Mary badgering poor Jenna Elfman, some actual thinking went into Dog's gimmicky premise, enhancing the show's realism and adding an extra layer of empathy to its warm depiction of a relatable everywoman.
And yet there's no question this will be a hard sell. Not since Buffy the Vampire Slayer has there been a show whose title and premise have forced me to insist repeatedly, and strenuously, "Yes, really, it's good."
See Also
New to streaming: the ravishing second season of Aziz Ansari's Netflix comedy and Jill Soloway's daring adaptation for Amazon of a feminist cult classic
Allison Tolman equals her star-making performance from the first season of Fargo as hard-working, long-suffering Nan, whose messy life is seen through the baleful eyes of her loyal mutt, Martin (played by Ned and voiced in a drolly funny deadpan by series cocreator Samm Hodges). Nan can't hear Martin's deep thoughts—"Sleep is the foundation of a productive day"'—but thankfully we can, and while we sometimes see his lips move, Mister Canine Ed this isn't.
Martin's narration is primarily voice-over, wryly commenting on his very narrow universe, of which Nan is unquestionably the center and where a taunting neighborhood cat (voiced by comedian Maria Bamford) is feared as an "emotional terrorist." Neurotic and melancholic, borderline depressive in his forlorn but ultimately loving outlook, Martin is like a Woody Allen you wouldn't mind petting. When he sees a fly in his water bowl as "legitimate cause for concern" that he's being neglected, Martin laments, "I just don't feel very respected, like as a being."
Try telling that to Nan, who's drifting through a quasi-relationship with her slacker ex (Raising Hope's Lucas Neff, nearly unrecognizable under a forest of facial hair) and demeaned at work by a boorish boss (Barry Rothbart). Martin is her solace, and when these two lonely souls bond, putting their grievances and insecurities aside, you might want to join them in what Martin calls their "cry in the wine" time.
See Also
Plus, 'Line of Duty,' 'MacGyver' and 'Sun Records'
As Downward Dog cleverly expands its boundaries, Martin's anxieties eclipse Nan's, obsessing over a newly installed doggie door ("I think I just opened a portal with my … my mind!") or festering in jealousy when she takes him to her office and he encounters her new "playmates." He's most hilarious when he preens over his mental superiority ("It's not a sin to be smart") then collapses in self-doubt when shown up by a trained pooch: "I've been so committed to the life of the mind that I feel like I've kind of missed out on the potential of my body."
Not until the third episode does Martin finally admit, "I'm only human." Those who take this dog, and his owner, to their heart will have realized that almost immediately.
Downward Dog, Series Preview, Wednesday, May 17, 9:30/8:30c, ABC; Moves to Tuesdays, 8/7c starting May 23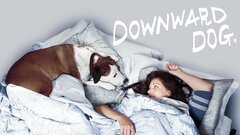 Powered by