'Prison Break' Preview: Whip's Bedside Plea to Michael (VIDEO)
In last week's episode of Prison Break, Michael (Wentworth Miller), Lincoln (Dominic Purcell), Whip (Augustus Prew) and Ja (Rick Yune) were on the run in ISIL-controlled Yemen. With Cyclops (Amin El Gamal), one of this season's baddies, in hot pursuit, Michael split from the group.
In the midst of Michael and Cyclops' epic showdown, our brave Mr. Scofield caught the pointy end of a screwdriver in the gut while turning the one-eyed assassin into a no-eyed assassin. We know that Michael is superhuman (and we think he may be immortal), but watching our stabbed hero stumble across the desert felt like a gut-punch to us, too.
See Also
Dominic Purcell and Wentworth Miller talk about their brotherly bond on and off camera, and returning to the Fox action thriller 'Prison Break'.
In this exclusive clip from Tuesday's episode, "Wine-Dark Sea," a gravely injured Michael is ushered to a safehouse bed, where Michael's prison bestie Whip makes an emotional plea. Check it out.
"You gotta hang in there buddy," Whip begs, reminding Michael that his quest isn't over. "You gotta tell me why I'm your whip hand."
Yeah, Michael, we wanna know why he's your whip hand, too! So don't die. You've still got a few more episodes left. And butts to kick.
Prison Break, Tuesdays, 9/8c, Fox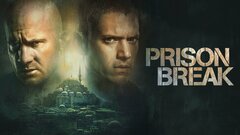 Powered by