'Scandal' Season 6 Finale: Bellamy Young on Mellie's Big Moment and the Episode's Shockers
[Spoiler Alert: Do not read ahead unless you've watched the season finale of Scandal. Major plot points discussed below.]
ABC's Scandal may have had an odd sixth season with a shortened number of episodes (due to star Kerry Washington's pregnancy) and a whole lot of flashback storytelling in the early half of the season, but its sixth season finale set things up in a big way for what's to come in the seventh and final season.
Fitz (Tony Goldwyn) left Olivia (Washington); Maya (Khandi Alexander) threw around a whole lot of crazy but was trying to save her daughter and then was killed by Rowan (Joe Morton); Quinn (Katie Lowes) is pregnant; Luna Varga (Tessie Santiago) was not what she had seemed (then died with the help of Olivia and Jake (Scott Foley); Cyrus (Jeff Perry) came back into the picture in a big way; and, yes, Mellie Grant is now President of the United States.
See Also
Plus, 'Scandal,' 'The Blacklist,' 'Supernatural' and more
Bellamy Young, who plays Mellie, gave us a nice preview of Thursday's two-hour Season 6 finale, and now she's going to give us the inside scoop about so much of what we saw in the season-ender, including that great scene between Mellie and Fitz, and whether Mellie really does trust Olivia and Cyrus—both of whom can be helpful to her in her presidency, but could also be less than helpful.
Talk about shooting that great scene with Tony, which really showed that after everything they've gone through, Mellie and Fitz do still share a love for each other. Do you and Tony channel that into the scene?
Bellamy Young: I don't know that we go into it in a calculated way. This is my first experience as a series regular, so it's the first character I really got to live with like this. But we all have history, and in the case of this cast, actual, real love. Even when you're fighting onscreen, that bond is still there, and I have found with all of the cast members, whenever our characters are at odds, whenever they come back together, it's such a deep delight that we all sort of lean into.
Tony and I were so happy for that scene, but I think the characters are happy for that scene, too, because, like I said, they have a deep connection. Of course, they still share children, but they are also of like mind in so many ways, and I think they even subconsciously are relieved to find a new, relevant, important way to relate to each other.
On a scale of one to 10, how surprised were you that Luna Vargas had a hand in this all along?
Oh, like 11. [laughs] I don't ever see anything coming. I am totally gullible. I buy the ride. I was like, "Huh?" It was a shocker. Tessie's been great to have on the show. I think she goes out in style.
RELATED: Subscribe To TV Insider's Scandal Newsletter
Thankfully, Mellie becomes the first female President, and we really see that message and how monumental it truly is for everyone.
I think it is absolutely fundamental to this episode. Mellie is not just another President. It's a very big departure for this country, and it's a very important milestone, not just for women but for all Americans. We [had hoped] to convey that over the course of the episode because it's definitely what fuels Mellie's courage. Not herself and not her dreams, but the fact that this is something for all America. This is a moment in history. This is a big deal. Mellie knows in her heart that America needs this moment. They need to see a woman inaugurated on the steps of the capitol so that we can get past that silly thing that we've been missing in this country for so long. We're so behind the rest of the world in that regard. She knows America needs that moment, and she's willing to lay her life on the line to give it to them.
In the finale, Olivia's father says to her that she's the predator. She's not the victim. Do you think Mellie sees Olivia that way, or do you think she might see that in the future? They've all had to do really awful things over the time.
I think she definitely does not have a notion of Olivia as predator. Now, I loved that scene. That was a great, semantic splitting of hairs. But, yeah, their history began with a betrayal, Olivia sleeping with her husband. I still don't think Mellie has seen her as a predator, and I'm very, very interested to see because it seems like they'll be on very opposite sides of the moral fence next year. I think that there will be friction in the White House, but I have no idea of knowing about that.
I do also think that [Mellie] believes that Olivia wears the white hat and always chooses justice and always chooses what's right. I think she really still sees Olivia as a moral barometer, so I think there is the opportunity for her to be deeply surprised next season.
See Also
Why was 'American Idol' a show that the network wanted so badly?
It's a really nice moment where Mellie asks Cyrus to go with her to the inaugural ball but, similarly to Olivia, how does Mellie see Cyrus?
I think in a much different way from Olivia, she is very aware of the being that Cyrus is. I think she is aware that he is both a monster and a savior. I don't think she ever for a minute takes her sanity, security or freedom for granted when Cyrus is in the room. That being said, I know she respects him deeply. He is unbelievably good at what he does, and she understands how he can be a formidable ally and how she would never want him as a foe. I think she keeps her wits about her whenever Cyrus is involved, but I think she also knows that it's Washington and he's the best.
Because there were so many twists and turns in the finale, how was that table read for everyone?
As we begin to say goodbye to bits and pieces of this experience, the cold table reads are going to be something I miss the most, because we love the show, like the Gladiators love the show, and that's when we get to watch it. That's when we find everything out, and of course, it does all your actor homework because you're reacting to the material honestly and you're really watching everyone go through everything in a very immediate way.
But every finale has surpassed the last. This one was not just a cliffhanger or something that punched you in the gut and drug you through the summer until September. We have everyone being reinvented because it's the end of an administration. Watching the page turn on everyone's new chapter was just a revelation, and a joy. Some of it was hilarious, and some of it was terrifying, and some of it was so moving.
Scandal will return with its seventh and final season this fall on ABC.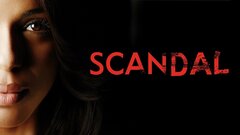 Scandal
where to stream
Powered by