Emmy Rossum and Shanola Hampton Talk Memorable Auditions for Shameless (VIDEO)
https://player.waywire.com/?id=KXCJ6P346BRW2BPL
Showtime's dramedy Shameless is currently on its fifth season, and two of the show's stars continue to embrace their raw characters. But auditioning to play them was nothing short of stressful.
"[My agent] said, 'You're going to have to fight for this one. They don't think you're right for it,'" says Emmy Rossum.
Shanola Hampton, who was Nurce Graceffa on Miami Medical, had to undergo a Mrs. Doubtfire-like switcheroo.
"I had to change out of my nurse's gear into Veronica gear in between the set of the show that I was working on, and the [production assistant] would drive me over in his little golf cart because I would sneak off on the set," says Hampton.
In the video above, we asked the stars what is their favorite social media platform, and which TV characters would they want their own characters to date.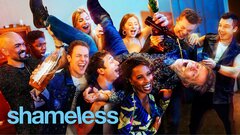 Powered by