'Gotham': Gordon Infiltrates the Court of Owls (VIDEO)
Ahhh, Gotham…the city that never sleeps until everything is entirely messed up. Like the Court of Owls' whole mask situation. Honestly, we haven't been this unsettled by a disguise since that killer clown's flesh-mask on American Horror Story a few seasons back. And yet, somehow, the recently renewed Fox drama's Jim Gordon (Ben McKenzie) makes the look work in this week's episode, "Heroes Rise: Light the Wick."
See Also
Reporter Damian Holbrook films a cameo for Ben McKenzie's first-ever journey behind the camera for Fox's 'Gotham'.
After joining the cabal as a way to get intel on them from the inside last week, Jimbo goes sneaking around the compound to snag some DNA from one of their beaked masks. Before he can finish the job, our dogged hero is forced to don the disturbing thing and make small talk with one of the weirdos affiliated with Gotham's secret society to avoid being busted.
As we know, the Court plans to basically destroy Gotham with some sort of bomb, and in this exclusive clip from the episode, Jim uncovers an even more ominous angle to their plot involving members' loved ones and the "upcoming judgment."
While Jim is busy playing detective, the Court's HBIC Kathryn (Leslie Hendrix) and the Temple Shaman (Raymond J. Barry) are off tormenting the captive Bruce Wayne (David Mazouz) with the further details of their demented goals, and Ivy (Maggie Geha) continues to bring together the city's villainous ranks by helping Selina (Camren Bicondova) recover from literally being dumped by Bruce's creepy doppleganger. These kids, they grow up and go bad so fast.
Gotham, Mondays, 8/7c, Fox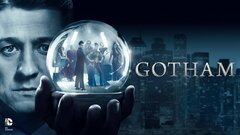 Gotham
where to stream
Powered by