'Last Man Standing' Ends After 6 Seasons on ABC
Adam Taylor/ABC
Pictured: (L-R) Amanda Fuller, Jordan Masterson, Flynn Morrison, Kaitlyn Dever, Molly Ephraim, Tim Allen
ABC has canceled Tim Allen's sitcom Last Man Standing after six seasons.
EW.com reported the show's demise Wednesday.
Variety said the cancellation was due to low ratings in its sixth season.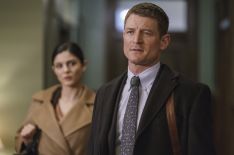 Here's when your favorite network TV series are having their season finales, along with their renewal status — or their predicted fate.
The series is about a Colorado family man with three adult daughters, who is in charge of marketing for a chain of outdoor, sporting-goods stores. It co-starred Nancy Travis and Hector Elizondo.
The final episode of Last Man Standing aired March 31.
By Karen Butler
Originally published in UPI Entertainment News.