Empire Breathes New Life Into Primetime's Filthy-Rich Genre Empire has breathed new life into primetime's filthy-rich genre
The Fox series, says James Wolcott, "amalgamates all of the flamboyances of the filthy-rich genre and fires them out of a confetti cannon. Set in the never dull vice den of hip-hop music, it's a genre mash-up that whips the gangster saga, the Dallas–Dynasty family feud, the Real Housewives continuing catfight, and the racial-uplift inspirational into a new kind of dizzy exhilarant."
Why is Cookie every Empire fan's favorite character?
Cookie, says Gilbert Cruz, is "an outrageous character but one that would be a caricature without the confident performance of (Taraji P.) Henson, who (despite ordering a murder) has somehow made Cookie the moral center of a somewhat amoral world. At turns vicious, petty, motherly, charming, frightened, sexy and hilarious, Cookie has won us over." PLUS: Here's every fur coat Cookie has worn so far, rating all of Empire's songs, and Lee Daniels explains the BJ bib.
Report: Bruce Jenner's E! docuseries is still going forward
According to Buzzfeed, filming has only been "slightly delayed" on the docuseries on Jenner's transition from a man to woman.
Glee's 2-hour series finale will include footage of Cory Monteith
The 2009 episode will feature many callbacks to the show's pilot.
Breaking Bad Walter White home owner: "If you're going to be a jerk, stay the hell away"
CNN — which attempted to toss its own pizza on Walter White's roof — spoke with homeowner Frances Padilla about her Breaking Bad fan pizza-tossing problem.
CBS' Code Black replaces Maggie Grace with Marcia Gay Harden in lead role
Bonnie Somerville will replace Harden on the medical drama pilot as Harden moves from a co-starring role to the lead role. PLUS: CBS' Rush Hour casts Justin Hires in the Chris Tucker role, Greg Grunberg joins NBC comedy pilot, and Two and a Half Men's Marin Hinkle joins The King of 7B.
The Kardashians have appeared on 120 magazine covers since their E! reality show launched
By creating a "Magazine Cover Dynasty," the Kardashians have been able to keep their names and faces in the news, thus resulting in more money for their various E! shows.
Real Housewives of New Jersey is set to add the wife of former NFL player Tiki Barber
Traci Lynn Barber is reportedly joining the cast next season.
How Netflix can fix its "Spoiler Alert" problem
Rather than dump every episode on a single day, why not release one episode per day for 13 straight days to allow everybody to watch at the same pace?
Supernatural's Jared Padalecki: I've struggled with depression
The actor recalls learning he suffers from depression after breaking down following the filming of a Season 3 scene.
Robert Redford '70s thriller Three Days of the Condor is getting a TV remake
The 1975 Sydney Pollack-directed film about a CIA analyst caught up in a massive conspiracy is being developed for the small screen.
Lena Dunham interviews "girl crush" Kerry Washington
As she prepped for her Scandal guest appearance, the Girls star sat down with Washington for a one-on-one interview.
Adult Swim wants its formula to succeed in primetime
"We want to grow in the 8 and 9 o'clock hours, and create original hits that can be more broad without losing the Adult Swim sensibility," says the head of Cartoon Network, Adult Swim and Boomerang.
TV shows should let supporting characters shine for an episode more often
Episodes like this week's Better Call Saul, which was a showcase for Jonathan Banks, "are so often TV treats," says Todd VanDerWerff. "There's nothing more fun than getting to see how the supporting players perceive the characters who are normally the leads."
The 100 has been revolutionary in how it treats gender and sexuality
For instance, the CW series has a bisexual lead.
Real World: Skeletons was the MTV franchise's best season in years
Skeletons managed to bring together The Real World's guilty-pleasure present with its socially conscious past.
HBO releases the 1st teaser for Bessie Smith film Bessie
Queen Latifah plays the bisexual jazz and blues singer.
Check out the Parks and Rec guide to Los Angeles
Here are 21 of "Pawnees'" most memorable locales in L.A.
Emma Roberts teases Scream Queens
Fox offered a teaser Friday for the new Ryan Murphy series.
What happened to the casts of Judd Apatow's Undeclared and Freaks and Geeks?
Here's a detailed look at where the two ensembles are now, including the non-famous actors.
Will Forte compares The Last Man on Earth to MacGruber
"I like that it ends up being different that what most people think it's going to be," Forte says. "I would compare it to MacGruber, in that I'm sure a lot of folks were like 'Wait, is it just going to be some guy getting blown up every two minutes?' Then you realize it's a little more than that. It's the same thing with this: 'Oh, it's just a dude d*cking around all by himself for a half-hour every week?' Viewers figure out pretty quickly that there's a lot more going on. We wanted to see if we could take this outrageous idea and do something that was funny and emotional." PLUS: How much say did Kristen Schaal have in developing her character?
The Americans has been telling a "Binding of Isaac" story this season
Its fixation on religion in Season 3 is similar to one of the most disturbing stories in the Bible.
Scandal's Guillermo Diaz: "We're learning so much about Huck"
Now that we know Huck's real name, what more can we learn this season?
Meet the secret weapon of House of Cards
It's not Kevin Spacey or Robin Wright.
Banshee co-creator talks Season 3 finale
Jonathan Tropper tried to stay away from the "obvious finale."
Watch a roundtable of the Mad Men cast
Five of the show's stars, excluding January Jones, sit around to chat in this AMC video.
The Gong Show's Gene Gene the Dancing Machine dies
Gene Patton, 82, would steal the show from Chuck Barris whenever an act went awry.
Unbreakable Kimmy Schmidt's Tituss Burgess on race controversy: "The naysayers needed something to do and talk about"
"That's ridiculous," he says of accusations of racism. "If anything, it turns our head and makes us poke fun at our own self. Just like South Park does such a brilliant job of making fun of everybody and no one's the victim, that's exactly what this show does." PLUS: Dong is a major misstep in a post-Fresh Off the Boat world, Kimmy turns tropes into people, Tina Fey's music supervisor husband Jeff Richmond explains the music of "Kimmy, how that catchy theme song was made, Kimmy has a groundbreaking way of using color, why Kimmy dating an Asian guy is such a big deal, 30 Rock vs. Kimmy Schmidt, and looking back on Tina Fey's history with race.
E!'s The Royals delivers on all its campy promise
E!'s first scripted series, starring Elizabeth Hurley, is "a tabloid editor's escapist fantasy played out on screen," says Kevin Fallon. The Royals, he says, "seems to spring from Prince Harry's secret Snapchats. Think Gossip Girl meets Real Housewives, but with Lisa Vanderpump's Tiffany tiaras replaced with actual crowns." PLUS: It's more like an over-the-top reality show than a parody of the British royal family, it could've been more biting, it's flaccid, weirdly paced and badly cast, and Elizabeth Hurley insists, "We're working bloody hard."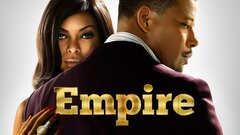 Empire
where to stream
Powered by