Watch: 'Orphan Black' Season 5 Extended Trailer
Buckle up Clone Club, the extended trailer for Orphan Black has been released and the fifth and final season looks off the rails!
In the pulse-pounding first look, our favorite, sci-fi sestras: Sarah, Cosima, Alison and Helena—all played by Emmy-winner Tatiana Maslany—lay out what's been done to them under the guise of "science," and then lay down the law. These women are no longer playing nice: they're ready to fight and protect what they love, regardless of the cost.
Orphan Black also stars returning cast members Jordan Gavaris, Maria Doyle Kennedy, Kristian Bruun, Kevin Hanchard, Evelyne Brochu, Skyler Wexler, Josh Vokey as Scott and Ari Millen. Guest stars this season include James Frain as Ferdinand, Lauren Hammersley as Adele and new addition, Jenessa Grant as Mud, Cosima's one true friend on the Island.
See Also
The Clone Club welcomes a new member: Emmy!
Orphan Black, Season Premiere, June 19, 10/9c, BBC America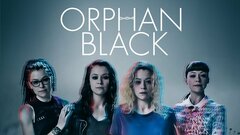 Powered by