Kickin' Up Some Country With Nashville's Music Special (PHOTOS)
ABC's Nashville seems to hit its highest notes when songs punctuate the storyline. But in Nashville: On the Record 2, the cast–along with country music superstars Deana Carter and Reba McEntire–turn off the soapy drama and let the music rule the night with a one-hour performance special recorded at the historic Grand Ole Opry House. The special, which will air Wednesday at 10 p.m., is an offshoot of the documentary web series that chronicles the origin stories of the carefully selected tunes that make their way onto the show each week.
Grammy-winning star Deana Carter joins forces with Charles Esten — who plays hard-luck Deacon Claybourne — for "I Know How to Love You Now." The duo co-wrote the song after they met while flying to and from Los Angeles; Carter had recognized Esten because her kids were fans of his Disney series, Jessie.
Country queen Reba has made cameos on Nashville, and performs "Going Out Like That" for the On the Record special.
Clare Bowen's wounded-bird songwriter Scarlett O'Connor has been extra-broken this season, but the actress seems free as a bird on the Opry stage.
Esten and Bowen share the stage with Lennon and Maisy Stella. The real-life sisters play Rayna's (Connie Britton) daughters on the show and have made their mark musically with their gentle, acoustic takes on popular songs like The Lumineers' "Ho Hey."
Sam Palladio's Gunnar Scott has spent less time in the show's musical spotlight this season while saddled with a surprise-you're-a-dad!-oh-no-wait-not-really storyline, but the actor and his guitar get to take the stage for On the Record.
Palladio's Gunnar, Bowen's Scarlett, and Jonathan Jackson's Avery Barkley have gone from tortured love triangle to road-tripping buddies, but are always magic when they perform together.
The special will also include performances from Chris Carmack, Will Chase, and Aubrey Peeples.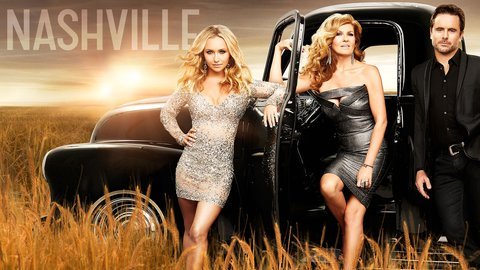 Powered by