Jeff Goldblum Goes Exploring on Nat Geo and Heads Back to the 'Jurassic World'
64-year-old Jeff Goldblum is a very busy guy. He just finished the movies Thor:Ragnarok and Wes Anderson's animated Isle of Dogs; he's headed to London for Jurassic World 2; and, best of all, he's signed up for a new Amazon comedy with Danny DeVito. But first, you can catch him as the host of National Geographic's Explorer for three episodes, beginning Monday, May 8.
TV Insider was able to catch the actor between gigs.
With all your projects, why did you make room to host Explorer?
[Laughs] Don't forget I also just had two kids, one 22 months ago, and one three weeks ago. They're my first!
Congratulations!
Thank you very much. But with all that going on, I was thrilled to work on Explorer. I've always loved National Geographic. Explorer is a great mix of light-hearted and serious stories and it certainly feeds my curiosity. It turned out to be thrilling to work on.
What are some of the stories airing during your stint?
One of the stories this week is about Japan and their tradition of pride and suicide. If people feel they fail at something, instead of killing themselves in shame, they can use a service to "disappear" themselves. It's a growing phenomenon: people disappearing and their families never hearing from them. Other stories include scientists risking their lives in Antarctica, diving into freezing water to find indications of climate change in the ocean; big pharma exploiting the opioid epidemic around the world; and violence against India in the gay community.
You also interview someone in each of your episodes. First up, fellow actor Sam Rockwell. He, of course, was in the supernatural thriller Poltergeist. What do you talk about?
I asked him about whether he believed in ghosts![Laughs] He doesn't. We talked about our global, scientific and human interests and about acting as well. Then I spoke with Norm Eisen, Obama's former ethics czar. He was also the ambassador to Czechoslovakia and was the inspiration of my character in Wes's The Grand Budapest Hotel. And finally, I spoke with the Freakonomics guy, Stephen Dubner.
If you had a chance, what kind of exploring would you have wanted to do?
Having played several scientists, including James Watson who discovered DNA with Francis Crick [in the TV movie The Race for the Double Helix], I've come to esteem them highly. They're my heroes—those exploring new frontiers of science and space and where we came from. I can't wait to show Neil De Grasse Tyson's Cosmos to my sons.
Speaking of scientists, after skipping the last three movies of the Jurassic franchise, how did you get dragged back in as chaos theory guy Ian Malcom?
They didn't have to drag me in at all! I've always been excited and proud to be part of that phenomenon. Wherever I go, after all these years, people seem to mention it. JA Bayona, the director, is a good friend of mine and I was thrilled to work with him and revisit that character. I'm going to London in a few weeks to do some filming. I've been working out what Malcom might have been doing all this time.
Maybe recovering from dinosaur trauma?
That is true. You could imagine it might have been difficult to get him back in proximity to dinosaurs.[Laughs] In the new movie, they come to me for some opinion that I may have about the situation with the current dinosaurs.
How's your new Amazon pilot with Danny DeVito going? It would be your first full-time series gig since Law & Order: Criminal Intent.
Collaborating on that development is very exciting. The creator, Tim Long [The Simpsons], is a terrific writer, and Danny DeVito will be wonderful to work with. I am excited about the project.
The word is that you star as a one-time popular duo akin to Simon and Garfunkel who have hated each other for years. True?
It is. And now they find themselves with an opportunity to reunite with all the issues that entails. I like the idea of playing a musician; you know I play piano in a jazz club every week in LA. And Danny is spectacularly talented.
So, since you're now an expert in the field, are you looking forward to taking your children to dinosaur exhibitions in a few years?
I definitely am. When I was a kid , I was so affected by Pittsburgh's Carnegie Museum of Natural History where I would walk through these huge halls full of dinosaurs every week. I can really imagine taking Charlie and River Joe there as soon as I can.
Explorer, Mondays, 10/9c, National Geographic Channel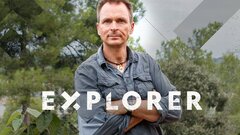 Powered by