PaleyFest: Scandal's Cast on Behind the Scenes Antics and Series Secrets
Kerry Washington might have been battling a case of laryngitis, but that didn't stop her from spilling secrets at Sunday night's Scandal panel at PaleyFest. She and the rest of the cast — Tony Goldwyn, Scott Foley, Darby Stanchfield, Bellamy Young, Jeff Perry, Guillermo Diaz, Katie Lowes, and Joshua Malina — took questions from Jimmy Kimmel and fans and dished about what happens when the cameras are turned off. Here, eight things we learned from the conversation:
On Set Pranks
The cast revealed Malina has made Stanchfield cry on the set. Don't worry superfans, he isn't a mean guy, he's just a big prankster. Malina kept pushing her chair during a taping of an episode; she said she started crying after the 60th time because she didn't know what else to do! Lowes said she was once angry at a prank he had played on her. "I tried to not talk to you for 24 hours, right?" she recalled. Malina playfully responded, "I didn't notice."
Favorite Character Quotes
The cast shared favorite lines from their characters:
"I'm Quinn, bitch." – Katie Lowes
"I will peel you like a grape." — Guillermo Diaz
"Bitch baby" – Kerry Washington
"Pervy sexting pervy perv" – Darby Stachfield
Fart Noises
Apparently Scott Foley likes to make farting noises before every take. Kimmel wanted to know if he made these fart noises during the Ferguson-inspired episode; Foley says that he toned it down a bit in that case.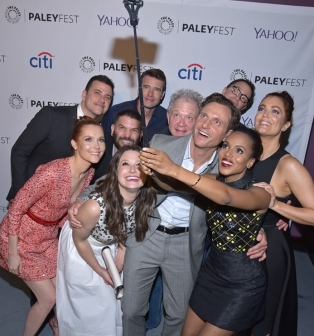 Cast Member Crushes
Jeff Perry had a fan crush on Tony Goldwyn after he directed an indie film, A Walk on the Moon. Perry told viewers how it prompted him to write a fan letter to Goldwyn. Who can blame him?
Fan Fiction
The cast members were a little shy about whether or not they read any of the Scandal fan fiction, but weren't afraid to ask Kimmel to read some of it right then and there. "I wish I had one to read now, but it would probably be filthy," Kimmel said.
Celebrity Fans
Kerry Washington said that Bill Clinton came up to her one day and kept asking her what would happen on the next episode – talk about a spoiler alert. The cast also said NBA players Kevin Durant, Chris Paul, and Magic Johnson are fans of the show, as well as Girls star Lena Dunham (who'll appear in an upcoming episode.)
What Happened to the Babies?
When asked about baby Ella and baby Teddy, the cast said that they've decided baby Teddy is in baby boarding school. Kerry, however, thinks they're both hiding out with baby Isabelle. Perry said we'd see baby Ella in the next couple of weeks. When Kimmel asked if Dunham is playing the role of baby Ella, Perry only revealed that she is being featured on the show.
Katie Lowes's Emotional Reaction
Lowes thought she was being called back for another round of auditions, but after some anticipation-building, she was told she'd won the part of Quinn. The producers of the show filmed her reaction – in a touching, intimate moment Lowes immediately had tears in her eyes and continued with a string of "Oh my gods."