'The War for New York Is Here': The Official 'The Defenders' Trailer Has Arrived
The trailer to the long-awaited Netflix series Marvel's The Defenders—which finally teams up Daredevil, Jessica Jones, Luke Cage and Iron Fist (but, alas, no Punisher), the heroes from Netflix's previous Marvel Comics-based series—was released Wednesday.
A bit more realistic and "street level" group of crime-fighters as opposed to, say, the Avengers, the Defenders—as fans could tell from their individual series—are relative loners with a lot of their own issues, let alone taking on the task of saving their city. But as the trailer hints at, they learn they may be stronger when they team together. We see this right off the bat in the trailer as Jessica Jones (Krysten Ritter) is being interrogated by Luke Cage's Misty Knight (Simone Missick), when attorney Matt Murdock (Charlie Cox), a.k.a. Daredevil, bursts in to represent her.
See Also
See images from the new Netflix series.
We also see Iron Fist (Finn Jones) encountering the indestructible Luke Cage (Mike Colter), throwing useless punches at him. "How come you can't be hurt?" he asks. Cage also has questions: "What's the deal with that fist?"
Although the group seems to get off to a rough start, Daredevil's Stick (Scott Glenn) tells them that, "The war for New York is here. So get your s**t together."
We also get a little glimpse of Sigourney Weaver as the series' villain, Alexandra, and a cool scene with Jessica, Matt and Iron Fist doing a little ass-kicking of some thugs.
Along with Cox, Ritter, Colter, Jones, Glenn, Missick and Weaver, The Defenders stars Elodie Yung (Elektra), Deborah Ann Woll (Karen Page), Elden Henson (Foggy Nelson), Carrie-Anne Moss (Jeri Hogarth), Rachael Taylor (Trish Walker), Eka Darville (Malcolm Ducasse), and Jessica Henwick (Colleen Wing).
It looks like fun, and shows that big superhero events won't only be in movie theaters this summer. Check out the trailer:
https://www.youtube.com/watch?v=4h3m7B4v6Zc
Marvel's The Defenders, Aug. 18, Netflix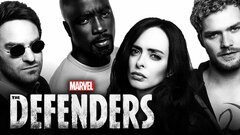 Powered by