New 'Marvel's Daredevil' Trailer Shows Off Elektra (VIDEO)
"The rising is coming."
That is never good news, but for Daredevil fans, it means more bad-assery in advance of the Netflix hit's return on March 18. The streaming service just released the second promo for Season 2 and like the first trailer's focus on introducing Jon Bernthal's The Punisher, this clip devotes a large portion to a new threat taking shape: the arrival of Elodie Yung as Elektra Natchios.
Previously played by Jennifer Garner in the big-screen film named for the Marvel character, this blade-wielding assassin and frenemy-with-benefits of blind vigilante Matt Murdock (Charlie Cox) shows up with ominous info for our hero, whose battle to clean up Hell's Kitchen is heating up even more now that the Yakuza is ready to strike. And as you can see in the trailer, he's gonna need all the backup he can get. Even if it is from a beautiful killer who clearly can't be trusted.
Netflix will release all 13 episodes of Daredevil's Season 2 at 12:01 am PT/3:01 am ET on Friday, March 18.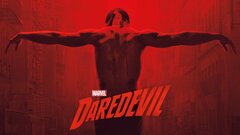 Powered by