What's Worth Watching: Who Deserves The Slap Now?
The Slap, "Aisha" (Thursday, March 19, 8/7c, NBC)
Say what you want about the characters—they're selfish, petty, amoral, shallow, violent, oddly accented—but this show has proven to be damn addictive. And now with the "he saw, she saw, who saw what?" conceit of the titular offense on the back burner, things are really starting to heat up.
Especially since so much else was going on at that fateful party while Zachary Quinto's hirsute rage-a-holic Harry was showing that unruly monster-child the back of his hand. Like how birthday-boy Hector (Peter Sarsgaard) was getting all handsy with babysitter Lolita or whatever her name is (Makenzie Leigh). As of last week, he'd called off their flirtation, but that doesn't mean there won't be fallout from their lone kiss: The scorned babysitter's buddy has some damning pics from the bash, and if she has her way, Hector will be forced to come clean with wifey Aisha (Thandie Newton)…who, btw, may or may not have a sin of her own to confess after running into an old flame at a Boston medical conference. Still, even with infidelity and inconsideration on both sides, Hec and Aisha are the only ones we're rooting for. Which really does say something about the other characters, huh?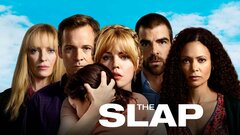 Powered by