What's On: Carrie Fisher in Season 3 of 'Catastrophe,' Netflix's 'Dear White People,' Samantha Bee in D.C., 'American Crime' Finale
Catastrophe (Friday, Amazon): Raunchy, raw and brutally funny, this more bitter than sweet rom-com about the most accidental of couples (Sharon Horgan and Rob Delaney) begins a third six-episode season with Rob jobless and suspicious of Sharon's fidelity—which even she is unsure about, having possibly strayed during a drunken blackout. As they muddle on, amid sloppy sex and messy relationships with friends and family, you can't help but root for them to beat the odds and achieve a happily-ever-after. The late, great Carrie Fisher appears in the final episode as Mia, Rob's lovably exasperating and outspoken mom, whose tough love is a tonic. In more than one ways, this over-too-soon season leaves you wanting more.
Dear White People (Friday, Netflix): Expanding his acclaimed 2014 independent film comedy with a mostly new cast, Justin Simien revisits the African-American subculture of Winchester University, a mostly white Ivy League campus which gets a much-needed wake-up call from Samantha White's (Logan Browning) "Dear White People" radio show, skewering white privilege and passive liberalism. Each episode smartly takes a single character's POV, revealing diverse identity politics of race, gender and class.
Not the White House Correspondents' Dinner (Saturday, 10/9c, TBS): Even before President Trump decided not to attend the so-called "nerd prom," Samantha Bee's alternative comedy event was already the hotter ticket. The fearless Full Frontal comic holds court from the stage of Washington, D.C.'s Constitution Hall for a night of comedy that celebrates a free press, with proceeds going to the Committee to Protect Journalists.
Veep and Silicon Valley (Sunday, 10/9c and 10:30/9:30c, HBO): One of the best hours of comedy hits a double home run with Veep sending Selina Meyer (Julia Louis-Dreyfus) and her team to Georgia—the Eurasian Republic—to oversee a free election. Or as the disgraced pol puts it, "spreading democracy, like Patient Zero." With no moral compass as both candidates offer bribes for her presidential library, the situation soon turns comically, horribly toxic. On Silicon Valley, Richard (Thomas Middleditch) locks horns with a newly coiffed Dinesh (Kumail Nanjiani), so smug in his new role as PiperChat's CEO that you know he's in for a fall.
American Crime (Sunday, 10/9c, ABC): Is there any light at the end of the various bleak scenarios from this emotionally grueling season? In the finale, Kimara (Regina King) comes to the aid of runaway sex worker Dustin (Kurt Krause), while detectives intrude into the broken marriage of Clair (Lili Taylor) and Nicholas (Timothy Hutton) in the aftermath of their nanny Gabrielle's (Mickaëlle X. Bizet) collapse. And with her sister once again incarcerated, where can Jeanette (Felicity Huffman) turn to put her life back together?
Inside Weekend TV: Two new documentaries revisit the 1992 L.A. riots that followed the Rodney King verdict. ABC's Let It Fall: LA 1982-1992 (Friday, 9/8c), from John Ridley (12 Years a Slave, American Crime), takes a long view to trace the growing racial divisions over a 10-year span, culminating in the chaos of 1992. National Geographic Channel's LA 92 (Sunday, 9/8c) sifts from more than 1,000 hours of archival footage to recreate the riots, looting and violence that transfixed a nation watching on TV. …
A tough day at the office for CBS's Madam Secretary (Sunday, 9/8c), as Elizabeth (Téa Leoni) and her team sweat it out when her right-hand man Jay (Sebastian Arcelus) is kidnapped in France while on a mission involving the CIA's arms-smuggling case. … Holmes (Jonny Lee Miller) and Watson (Lucy Liu) investigate a very personal crime on CBS's Elementary (Sunday, 10/9c), when Detective Bell's (Jon Michael Hill) girlfriend is assaulted and her ex-husband is killed.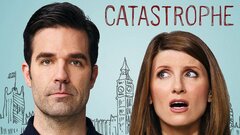 Powered by