Scene Stealer: '13 Reasons Why' Star Kate Walsh on Shooting the Show's Biggest Heartbreaker
Have you finished bingeing Netflix's new drama 13 Reasons Why yet? TV Insider is here to give you yet another reason to watch this 13-episode mystery based on Jay Asher's bestselling YA book of the same name: Scene Stealer Kate Walsh. Here's why.
SHE PLAYS:
Olivia Baker, the distraught mother of Hannah (Katherine Langford) mourning alongside husband and co-pharmacy owner Andy (Brian d'Arcy James) in the wake of their daughter's suicide following relentless bullying. "I was completely intrigued by the script, but I was also thoughtful about it because the role is obviously very heavy and I knew it would be a lot to carry," Walsh says of accepting the part.
Ultimately, she couldn't turn it down. "We really wanted to tell this story and develop a dialogue around it. Not just, 'High school's hard!' and bullying, but all these myriad complex issues: mental illness, LGBT issues, sexual assault. To really develop new ways to think, approach and frame it so that we could as a people move forward with dignity and compassion for each other. That's why we tell each other stories. That's why we make movies and TV shows–to inspire each other and feel connected and try to imagine what it would feel like to live in that world."
See Also
Everything you should know about the Netflix series executive produced by Selena Gomez, and the book that inspired it.
Walsh was also delighted that the series highlighted some of the Bakers happier moments before Hannah's death–it wasn't all doom and gloom after all. "They're a normal family," she explains. "This wasn't some dark, abusive household. It was just a regular family trying to get by."
WHERE YOU'VE SEEN HER BEFORE:
Donning scrubs as neonatal surgeon Dr. Addison Montgomery on Grey's Anatomy before leading its spinoff Private Practice for six seasons. "Women come up to me and tell me they became a doctor or are going to med school because they watched me on Grey's," Walsh recalls. "That's the most inspiring thing."
You may have also seen the NYC-based actress as Bad Judge's leading party animal or a stripper-turned-stepmom in Fargo's first season. "I love when something is funny, then real and dark, and then funny again," Walsh says. "I loved Fargo for that."
See Also
What has fan reaction been like for the star of Netflix's most social show ever? He fills us in.
WHY WE LOVE HER:
Walsh is unflinchingly raw in her portrayal of Olivia's grief—never once does she buckle under the weight of the subject matter as Olivia, "carrying that energy of grief and bereavement from the unimaginable." She also does some devastating physical acting when, in one of the show's most powerful scenes, Olivia discovers Hannah's body in a bathtub and tries to lift her daughter out of it. "It was one of the last things we shot, and it kept getting delayed because of the special effects," Walsh says. "I didn't want to rehearse; I only talked about what I was going to do. But I really just went for it."
"Kate is an extraordinary actor," her TV hubby James says. "The depth and the beauty of her work speaks for itself in everything she does."
On a lighter note, Walsh also recalled filming one of the series' big fake-out moments, as Olivia lunges to strangle Clay (Dylan Minnette) with the cord of his Beats headphones. "It was like a horror film moment," she recalls. "Dylan is such a sweetheart. The challenge in that was to not actually strangle him, so I don't hurt him," she laughs.
TONAL SHIFT:
Walsh had to get into a completely different headspace when she filmed a role for the R-rated comedy Girls Trip (starring Regina Hall and Gotham's Jada Pinkett Smith) in the middle of shooting 13 Reasons Why. "I went from being downtrodden Mrs. Baker with no makeup and my hair in a knot to playing this shiny, vulgar talent agent wearing designer clothes," Walsh says. "It was really fun, like a good workout!"
13 Reasons Why is currently streaming on Netflix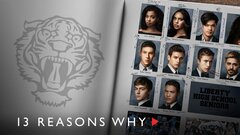 Powered by