A Strange 21 Minutes with Justified's Garret Dillahunt
Day Five of shooting on Justified episode 607, "The Hunt," consists of a couple scenes, one involving Garret Dillahunt, the other with stars Timothy Olyphant, Erica Tazel and Jacob Pitts. They're shooting in a small town just south of Santa Clarita, Calif., and a variety of nuisances are wreaking aural havoc: helicopters, freight and commuter trains, a blackbird hidden in a nearby thicket.
Dillahunt bears the constant noise with admirable grace, focusing on the grisly events unfolding in his scene. As most Justified villains do, his mercenary Ty Walker has fallen on hard times, which explains the blood and dirt covering just about every inch of skin and cloth. Shot in the upper chest and on the lam, his desperation has driven him to seek medical attention from some unhelpful sources. After Walker puts another bullet in one obstacle's head for good measure, Dillahunt boards the van that will take him back to his trailer.
Dillahunt has never seemed particularly large onscreen, more wiry than built. But with the jacket he was wearing while filming off, his bloodstained grey—or possibly filthy white—tank top reveals some serious (metaphorical) guns. (And a respectable amount of chest hair. "No men in Hollywood have chest hair," he says; it feels like a lament, but Dillahunt has a black belt in deadpan, so it can be hard to tell.) He's also sporting a rather impressive beard. Not because his Justified character has any particular aversion to shaving, but because Dillahunt has another gig, on Amazon's upcoming original series Hand of God, which apparently requires him to look vaguely Amish.
In his trailer, the conversation about the sixth and final season of Justified turns to fake spoilers. Things Walker will not be doing include: hooking up with Ava, hooking up with Boyd and Ava at the same time, hooking up with Raylan. "Raylan and I end up in the same bed one night," Dillahunt deadpans (see?). "It's not a pretty scene, but it's a very interesting scene."
When we come back to something resembling a real question, Dillahunt says he and his old Deadwood buddy Olyphant had been conspiring to get him on the show for years. The timing finally worked out. "Thank god my show [Raising Hope] got canceled," he cracks. "I called Tim and said, 'Hey, it's been a while since the world has seen you kick my ass…'"
The writers knew exactly which role to put him in: a hired gun working for Sam Elliott's pot magnate, Avery Markham. "For Sam Elliott's character, we used another actor's name—who shall remain nameless here—just as a placeholder," says Justified executive producer Graham Yost. "And then he just became 'Sam Elliott.' But Garret's character was called 'Dillahunt' from the beginning."
It wasn't just the prospect of working with his Deadwood pal that appealed to Dillahunt. One of his first TV jobs was as Deputy Dawson Hayes on ABC's Maximum Bob, an odd little late-'90s drama based on the Elmore Leonard novel of the same name. "I'd been doing theater forever in New York and was like, 'I'm starving to death, I need a TV job,'" he says. "Came out to L.A. and did pilot season, booked a whole bunch of pilots, and thought, 'You idiot, why didn't you come out here before?' But also I got Maximum Bob." He reminisces about Bob's cast—Beau Bridges, Beth Grant, Sam Trammell, before saying he couldn't resist a role on the show the late Leonard considered the best adaptation of his work, Justified.
"And something like this, when it's your friends, too?" he boggles. "I get a kick out of the whole choral nature of TV shows. It's like I'm a guest at the Mormon Tabernacle. I get a real thrill out of singing my part. I'm glad Tim stuck his neck out for me."
Not that recommending Dillahunt was a real risk for Olyphant. "Garret's a pro," Olyphant says. "I knew that from day one on Deadwood. The little things a guy like that does in a scene that most actors wouldn't bring to the table, they wouldn't feel that effortless."
Dillahunt himself has a differing opinion on what he brings to the table: "I know where my bread is buttered—my hairy white ass." He leans into the recorder. "I'm Garret Dillahunt, and that's our show."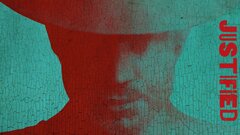 Powered by