Roush Review: 'Dear White People' Is Outrageous, Outspoken, Outstanding
Expanding the acclaimed 2014 film with a mostly new cast and a sharp focus on diversity of character, Netflix's terrific series version of Dear White People had me at "Defamation Wednesdays," a weekly ritual wherein the African-American students at a mostly white Ivy League campus gather to merrily hate-watch a withering and hilariously overheated parody of Scandal. (In my day, it was all about hooting and hollering at General Hospital's Luke and Laura in the Student Union building. Different times, different media.)
Hate-watching is not an option for this smartly provocative and only occasionally preachy comedy of substance. From the very start, when narrator Giancarlo Esposito (Breaking Bad) self-describes his tone as "ethnic but not threatening," this white person couldn't help laughing and marveling at how confidently Dear White People balances satirical irony and deep-seated rage to tell its richly entertaining, wildly funny yet deadly serious character-driven story of identity politics: racial, sexual, human.
See Also
Check out the biting new trailer for Netflix's 'Dear Black People,' a serialization of writer/director Justin Simien's 2014 satirical indie film of the same name.
Series creator Justin Simien makes each of these 10 brisk (by Netflix standards), biting episodes count, each focused on a specific character, most notably the pivotal pot-stirrer Samantha White (Logan Browning), whose "Dear White People" radio show skewers white privilege and passive liberalism. When accused of reverse racism, Sam retorts, "I get that being reduced to a race-based generalization is a new and devastating experience." Burn. The fact that she's romantically torn between white Gabe (John Patrick Amedori) and radical revolutionary Reggie (Marque Richardson) is just one instance of how complicated anyone's truth can be.
"What CW show are we in?" Sam laughs in Gabe's face when he says he wants to be more than her secret "bae." Gossip Girlfriends this isn't. Though a streak of earnestness runs deep through the series, stemming from the backlash to an infamous blackface party that featured prominently in the movie, there's an unflinching irreverence to the honesty with which the series looks at race, class and gender among these committed and confused millennials. It's also a show that amusingly dares to call out Game of Thrones as "that s–t with dragons set in a world where no one's black except the slaves."
See Also
A list of new and returning titles coming to Netflix, Hulu and Amazon in the latter part of April 2017.
The alluring Browning drives much of the action as media-savvy Sam, but Dear White People generously spreads the wealth within a large and impressive cast, diving deep into the psychologies of a variety of compelling members of the fictional Winchester University's student body. The better we know them, the more urgently we care about the fate of this divided campus as another explosive party and a subsequent town-hall meeting put everyone on edge.
Beyond the self-effacing Gabe, described as "a white face in a mostly black part of an overwhelmingly white place," and short-fused Reggie, we're also intimately introduced to Lionel (DeRon Horton), a socially awkward gay journalist whose shyness does not extend to his print exposés; his roommate Troy (Brandon P. Bell), the preppy and politically ambitious dean's son; and Troy's social-climbing girlfriend, Coco (Antoinette Robinson), who's "fluent in WASP" and whose desperate desire to assimilate causes her to declare in a moment of crisis, "We need to manage our blackness in situations like these. … Who cares if you're woke or not—if you're dead?"
The more real Dear White People gets, the more alive, and relevant, it becomes.
Dear White People, Series Premiere, Friday, April 28, Netflix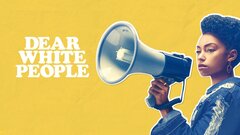 Powered by