Donnie Wahlberg on 'Blue Bloods' Season Finale: 'I'm Happy to Play Danny as Long as They Want'
Traditionally on Sundays, Blue Bloods' Reagan clan wraps up any emotional baggage from their week of policing and lawyering at dinner. But the startling events of the final episode of the CBS hit's seventh season can't be resolved over a dish of pot roast and potatoes.
The hour opens with Det. Danny Reagan (Donnie Wahlberg) and his partner, Maria Baez (Marisa Ramirez), assigned to the joint narcotics task force to help take down a particularly vicious drug cartel that's flooding the Big Apple with deadly heroin and fentanyl. In trying to save his beloved city, the hotheaded Danny threatens to go further than he should—or ever has before.
Wahlberg, who says he's "happy to play Danny as long as they want the show to go on," opens up about the drama's wind-down and his busy summer plans.
See Also
'The Big Bang Theory,' 'NCIS,' 'MacGyver' and 'Hawaii Five-0' also among the series that will return.
How does Danny become involved with a big DEA case? He gets assigned to a homicide and when they get to the site, the DEA is there and they realize that it's a major drug situation instead. The agent working the case for the Feds is named Melina and played by Luna Vélez from Dexter and New York Undercover. She was so much fun and a really great actress.
Do the two law-enforcement officers get along? They butt heads the whole time. Danny is trying to push her to catch these bad guys and make them pay for the damage they caused.
What's the result? What Danny does in pursuit of the cartel ends up blowing up in his face in a major way. There are consequences that may cost him parts of his life, and there will be lingering effects.
See Also
Dillon will appear as Linda Reagan's bad boy brother on the Feb. 17 episode of 'Blue Bloods'.
Sounds intense. Will there be a stir over your actions around the dinner table? Is everyone back for Season 8? That's very intuitive, but I can't say any more! I know Tom [Selleck]'s coming back. The dinner table should remain the same!
Burning question: Are you performing with New Kids on the Block during your Blue Bloods hiatus? Yes! A massive U.S. tour with Boyz II Men and Paula Abdul—it's her first tour in 25 years!
Blue Bloods, Season Finale, Friday, May 5, 10/9, CBS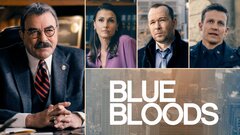 Powered by