What's On: 'Trial & Error' Delivers a Verdict, and Reveals Who Done It, in the Wacky Season Finale
Trial & Error (10/9c, NBC): Did befuddled Larry Henderson (the sublime John Lithgow) kill his wife? Will the jury convict him? Can young lawyer Josh's (Nicholas D'Agosto) career be saved? All of these burning questions are addressed, with varying degrees of silliness, in the back-to-back episodes closing out the first season of this goofily entertaining legal mock-umentary. Last week's cliffhanger ended with Larry confessing to deflect suspicion from daughter Summer (Krysta Rodriguez), which leads to this outburst from relentless prosecutor Carol Anne (Jayma Mays): "You can't take back a confession. This isn't church!" The antics include a guest turn from Lithgow's 3rd Rock From the Sun co-star French Stewart as a theatrical witness coach, and a brief glimpse of a well-known actress in the role of Larry's late wife just in time for Trial & Error to redefine the very idea of a who-dun-it.
See Also
Plus, 'Grimm,' 'Humans,' 'Nashville' and more
Brooklyn Nine-Nine (8/7c, Fox): Spoofing his Castle persona (and the traditional crime-drama storyline of visiting the set of a fictional crime show), Nathan Fillion guests as the star of fictional crime show Serve & Protect. Its set has become a crime scene after the female lead's (Kelly Sullivan) laptop goes missing, and a starstruck Jake (Andy Samberg) and Rosa (Stephanie Beatriz) have trouble separating reality from TV fantasy. Back at the workplace, Nine-Nine's days may be numbered when Terry's (Terry Crews) embittered ex evaluates the precinct for possible elimination.
Last Days of Solitary (9/8c, PBS, check local listings at pbs.org): Frontline takes its time delivering documentaries that matter. Producers Dan Edge and Lauren Mucciolo spent three years immersed at Maine State Prison for this important two-hour examination of the controversial practice of solitary confinement and the rewards and risks of reforming this practice, gradually allowing prisoners to re-enter the general population. The real debate hinges on whether prisons are designed just to punish or to rehabilitate.
See Also
Premiere dates for 'The Bachelorette' and 'Bachelor in Paradise' were also revealed.
Inside Tuesday TV: As the endgame begins on Freeform's Pretty Little Liars (8/7c), which kicks off its final 10 episodes with a special delivery from the mysterious A.D., the YA network launches a new drama, Famous in Love (9/8c), starring Bella Thorne as a college student thrust into the spotlight when she lands the leading role in a new movie franchise, making her the new industry "It Girl." … A wave of new documentary specials is marking the 25th anniversary of the L.A. riots following the Rodney King beating verdict. John Singleton (Boyz n the Hood) is an executive producer of A&E's L.A. Burning: The Riots 25 Years Later (9/8c), which includes first-person accounts of those who witnessed the violent rioting and looting. … Isaiah Washington guests on CBS's Bull (9/8c) as a high-profile attorney who Bull (Michael Weatherly lets defend himself in a murder trial. Guess that old saying about "He who represents himself has a fool for a client" doesn't apply here. … Discovery's Cooper's Treasure (10/9c) looks back at the Space Age, when astronaut Gordon Cooper thought he could spot shipwrecks from space and created a secret treasure map. Carrying on his legacy, longtime friend Darrell Mikos is using the late Cooper's charts to seek possible treasures on Earth.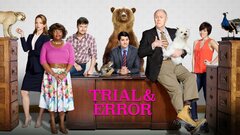 Powered by