Is 'Dig' the Da Vinci Code of Television?
Relocate a Dan Brown thriller to Jerusalem, add a very special red heifer, and you might get Dig, USA's new 10-episode drama. "If there's a Da Vinci Code quality," explains cocreator Tim Kring (Heroes), "it's because of the idea of an ancient conspiracy wrapped in religious prophecies with all of the signs, symbols, and clue trails." But, Kring insists, the series is first and foremost a murder mystery. "It's a classic paranoid thriller about a man who uncovers something big and ends up not knowing who or what to trust along the way."
That man is Peter Connelly (Jason Isaacs). Unmoored by his daughter's death, the grieving FBI agent has transferred to the bureau's Israeli office, headed by his sometime lover Lynn Monahan (Anne Heche). "Peter's broken," Isaacs says. "He's lost his child and he's lost himself."
The central mystery begins with the murder of a young American working on a dig close to the Temple Mount, a site esteemed by Jews, Muslims, and Christians alike. "It's a holy spot that ignites a lot of passion among so many people," says Isaacs. Chief among them, a shadowy cabal of religious fanatics with tentacles spreading from the Holy Land to Norway and the southwestern U.S. Their goal: to fulfill Biblical prophecy and ignite a worldwide cataclysm.
Connelly soon becomes obsessed with the case–and Monahan starts to get worried. "Lynn deals in reality," Heche says. "As Connelly gets further and further away from hard evidence, she gets more and more concerned about him."
"He wants to fix this because he couldn't fix anything in his life. All the trouble starts from there," says Isaacs, who spent months filming in Jerusalem until production was moved to Dubrovnik and Split in Croatia due to the conflict in Gaza. "It may sound fantastical, but much of what happens in the series is ripped from the headlines. I'm hoping that there are actual people like Peter Connelly out there stopping the bad guys." Amen to that.
Dig, Premieres Thursday, March 5, 10/9c, USA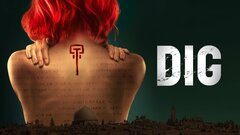 Dig
where to stream
Powered by