The Bold and the Beautiful's Katherine Kelly Lang on Brooke's Battle With the Bottle
Katherine Kelly Lang has spent nearly 28 years as The Bold and the Beautiful's No. 1 sexpot, Brooke Logan, a voracious mantrap who always has a lover—or two—begging for her favors. Not anymore. These days, Brooke is practically throwing herself at men and nobody wants her. So now the poor dear is cuddling up to a vodka bottle. What say Lang? We had an exclusive chat with the CBS Daytime superstar to get all the sad—yet indescribably delicious—dish on her character's downfall. Bottoms up!
This is a shocking development for our Miss Brooke. But shocking enough for her to become a drunk?
She's so embarrassed! She can't handle it. She's alone for once in her life and would rather down a whole bottle of booze and pass out than deal with it.
You know this sets feminism back 50 years, right?
It's hard, because it's a good soap plot, and I'm having a blast with it. But yeah, in this modern age, there are other places to go with this character. She needs to wake up and grow up and realize she can be a strong woman without having a man at her side.
A few months ago you had a scene where Brooke got blotto and had an emotional powwow with dead Stephanie's portrait. Was that the start of all this?
Probably. Stephanie and Brooke were always at each other's throats but Stephanie was also Brooke's rock. Now she's not around to help whip her into shape and get her sober. [Laughs] And you know she would!
It also wasn't that long ago that Bill and Ridge both wanted your character so badly that they were duking it out on a helicopter and Ridge fell into the Persian Gulf. How could it all fall apart so quickly for Brooke?
Well, since then Bill has remarried Katie and Ridge is now with Caroline. And Deacon seems very happy with Quinn. All her men are taken. Brooke needs to be needed and it has sent her in a downward spiral. But I really don't think she was throwing herself at Ridge because she thought she had a chance with him.
Seriously? You really think that?
She was doing it for her son, Rick, because she couldn't believe Caroline treated him that way. It wasn't about Brooke's ego, but it still threw her for a loop when Ridge rejected her.
Brooke is headed into a 12-step program, with Jill Whelan of The Love Boat cameoing as her group counselor. But do we really want this to work? Brooke on the sauce is kind of a hoot!
I have no idea how far [exec producer-head writer] Brad Bell will take this but Brooke needs to hit bottom, and she will. There's an episode [airing March 10] where she is rejected by Deacon again and she's drinking so much she falls and hits her head. It's her idea to seek help. Whether it works or not, I can't say. But it'll definitely be tough for her. She's traded one addiction for another.
How is your own ego handling all of this?
[Laughs] Much better than Brooke's. I say, "Bring it on!" There comes a point where this femme fatale thing starts to look a little silly and pathetic. You're like, "Honey, c'mon!" We all need to face reality and age gracefully.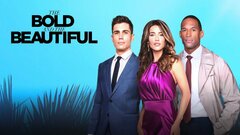 Powered by