Sweepstakes: Enter for a Chance to Win 'Planet Earth II' on Blu-Ray
Are you ready to have a wild good time? Now is your chance to get up close and personal with nature in Planet Earth II by entering to win the entire series on 4K Ultra HD Blu-Ray. Enter now through April 23 for the opportunity to own this collector's item.
Planet Earth II is the landmark BBC America miniseries narrated by Sir David Attenborough that gives viewers a unique look at animal behaviors that were once believed to be impossible to capture on film.
See Also
We are looking back at some amazing snap shots of the filming of original 'Planet Earth.'
Bonus content on the 4K UHD version includes "Planet Earth Diaries," a behind the scenes look at each episode and the challenges hurled at the crew through the filming process. So take a walk on the wild side and enter for a chance to win this remarkable miniseries.
Own Planet Earth II on 4K Ultra HD Blu-Ray, Blu-Ray and DVD everywhere now.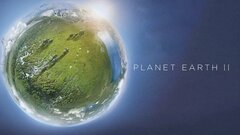 Powered by