'Days of Our Lives' Vet John Aniston Finally Gets Some Emmy Love After 48 Years in Soaps
Hey, better late than never. Daytime drama great John Aniston—aka Victor Kiriakis on NBC's Days of Our Lives—is basking in the glow of his very first Emmy nomination. At age 83!
You've starred in soaps since 1969. What the hell took so long for you to get some Emmy love?
You got me. I really haven't a clue. [Laughs] But this is very encouraging.
How did you celebrate your nomination?
Oh, nothing too crazy. I had a glass of wine with my wife. Does that count? That's about as far as I take it these days.
You always attend the Daytime Emmys to root for your nominated costars. Didn't you ever feel left out?
Oh, I'm sure I did. I get a little hopeful and then disappointed and discouraged—all of those things. But then, a lot of years I haven't participated in the process. It's a lot of work to get an Emmy! You have to sit down for hours and watch a whole bunch of your episodes to find just the right one to submit to the judges. Are you kidding me? Who has time for that at my age? This time I let the producers do it.
Even your own kid, Jennifer Aniston, won an Emmy for Friends back in 2002. That didn't light a fire under you?
Not really. And, by the way, I taught her everything she knows!
So now that you're officially an awards contender, what's next?
I'm going to have to start the Benjamin Button phase of my career and work backward.
Victor started out in 1985 as a drug-and-porn lord and it only got worse from there. What's your secret to survival?
Charm! Victor is just your everyday lovable killer. When he started out he even had two hit men on the payroll—and one of them was Patch Johnson [Stephen Nichols], who's still on the show today. Of course, it helps that the writers give me lines that are real gems. My favorite was when evil Eve [Kassie DePaiva] suddenly came back to town and showed up at Victor's door. He took one look at her, turned around and said, "Anyone order a hooker?" It's like having Neil Simon write your dialogue. You can't go wrong with good lines—or, if you do, it's your own fault. It's like this old photographer friend of mine used to say, "Give me Suzy Parker and I'll give you great pictures."
Well, for the dozen or so of us who still remember the great Suzy Parker, the world's very first supermodel, that's very funny.
I tell that story to young kids now and I get blank stares. They don't know who she was. [Laughs] Their loss.
Google her! Speaking of the old days, many of your fans many not realize that Victor isn't the first character you played on Days.
My original character [in 1969] was Eric Richards, who was the prison doctor when Bill Horton and Doug Williams were cellmates. I first auditioned to play Doug. They said they wanted me to do a screentest but only if I shaved off my mustache, which at that point I'd had for 7 or 8 years. It was my look! I didn't want to lose it, but I begrudgingly shaved it off and then they didn't give me the part! Two weeks later they called and asked me to play Eric and said, "Oh, by the way, could you grow back that mustache?" I never shaved it off again.
After that first stint on Days, you went right into Love of Life, then Search for Tomorrow, then back to Days. Were you ever without employment?
Well, my early days were rough and there did come a time in New York right after Search where nothing was going on for actors. Nothing! The town was dismal. [Laughs] They had a big sign in Times Square that said, "Last one out turn off the lights."
Victor remains powerful despite his age – so powerful he doesn't even have to leave the house.
He can sit on the couch and wage war just fine.
Yet somehow he's also become the wise old owl of Salem—the one people come to for advice. How'd that happen?
In a way, he and his wife Maggie [Suzanne Rogers] have taken over the Tom-and-Alice mantle. You need characters like that. They are the truth tellers. But sometimes they take the Tom thing too far. One year at Christmas, they put Victor in a Santa Claus suit. I told the producers, "That's the last time you're gonna make me do that."
So retirement is not an option?
What would I do? People ask me if I play golf and I say, "I own clubs." That's the extent of my ability.
We should mention that you are hardly the senior member of the Days cast. Bill Hayes, who plays Doug Williams, is about to turn 92.
Yeah, and I just love having him around. [Laughs] That guy makes me feel like a spring chicken!
Days of Our Lives, Weekdays, NBC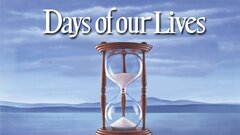 Powered by