'Family Ties' Live Stage Show to Make World Premiere in June
One of TV history's most beloved families, the Keatons, are returning. Not to your television, but to the stage, when Daniel Goldstein's live stage adaptation of the classic 1980s sitcom Family Ties makes its world premiere this June at The Human Race Theatre Company (HRTC)'s home at the Loft Theatre in Dayton, Ohio. Family Ties is the latest CBS Consumer Products title to be licensed as a stage adaptation, following in the wake of other such productions, including Cheers and The Brady Bunch.
Speaking of The Brady Bunch, one of that show's former stars, Eve Plumb, will be co-starring in Family Ties as Elyse, the role played on television by Meredith Baxter. Jim Stanek headlines as Alex P. Keaton, which was Michael J. Fox's starmaking role on TV. Lawrence Redmond plays Steven, with Thea Brooks as Mallory and Sara Mackie as Jennifer.
Maggie Lou Rader will play Alex's love interest, Ellen, but no word yet on whether Mallory's junk-artist squeeze Nick will make an appearance …
In the play, 20 years have passed, and Alex, now running for Congress, returns to his parents' Columbus home with his sisters, Mallory and Jennifer, who are parents of their own. Gathered together once again, they relive some of the most important moments from their childhood—the growing pains, heartbreaks and reconciliations.
The preview performance of Family Ties is June 1; opening night is June 2, with the production running through June 25. All performances are at the Loft Theatre, located at 126 North Main Street in downtown Dayton, Ohio. Show times for Family Ties are 8:00 p.m. on Thursday, Friday and Saturday evenings. Performances on Sunday, Tuesday and Wednesday evenings begin at 7:00 p.m., and at 2:00 p.m. on Sunday matinees.
Ticket and performance information is available at humanracetheatre.org.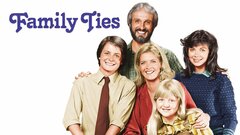 Powered by