'Underground' Preview: Cato's Been Where?! (VIDEO)
How'd Cato get so fancy in Underground Season 2? We're about to find out.
Following his stunning Season 2 debut at the end of last week's episode, Wednesday's Underground reveals that the Macon Plantation's former slavedriver (played by Alano Miller) not only survived the Macon 7's harrowing lunge for freedom, but has since traveled abroad, atop it. We're guessing that has to do with the suitcase full of cash he was toting in the Season 1 finale. And that he'll take plenty of pleasure in boasting about his good fortune to his new captive, Noah (Aldis Hodge).
"I think this season is about the fact that freedom isn't enough," Miller shared at a press event earlier this year. "Freedom isn't enough for Cato. All of us are running towards freedom—we thought that was what we're running towards—but there's something more."
Something that will turn our dapper opportunist even more shady.
RELATED: Sign up for TV Insider's Underground Newsletter
"Cato goes into some darker, darker areas," Miller explained. "If you thought Season 1 was dark, well, get ready. You've never seen this Cato before. You're going to relearn this character. … We last left him off with money, so you add money to the man you knew, and that's a whole 'nother beast. This time around, it's coming to terms with who he is and what he wants in life and how he sees the world."
See Also
Think the premiere of 'Underground,' WGN America's hit drama, was a nail-biter? There is much more to come this season. Stars Alano Miller, Amirah Vann, and Jessica De Gouw sat down with TV Insider to share the details!
Also on Wednesday's episode, Elizabeth (Jessica de Gouw) cares for the badly injured Rosalee (Jurnee Smollett-Bell), and things go awry when Georgia (Jasika Nicole) and Elizabeth oppose slavery at a rally.
Underground, Wednesdays, 10/9c, WGN America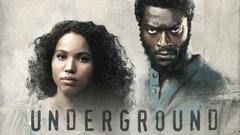 Powered by